Around the World in Silver Waves
February 15, 2014
I thought about his question as we ran along the forested path, winding our way through the arboretum on one of our after-school runs. The echo of cars had long since faded, and the trees, damp from a recent rain, blocked out any sounds. In the quiet and cool afternoon, my mind wandered as I visualized my room. What one thing has been the most places with you? I rolled the question around in my head, trying to assemble every trip and adventure I had been on and all the places I had been to in my life. Then the answer came to me. Something so familiar, it made sense I had overlooked it. It wasn't clothes or books or anything I had in my desk. It was the silver ring I wear on my right middle finger.

The ring itself is a simple band of silver. The inside is shiny and flat, while the outside is covered with dings and scratches from user error. The interior is as smooth and polished as Thanksgiving dinner silver. I don't know how all the scratches appeared, but each one represents a different adventure. It's as though the ring has been coded to the experiences of my life, as if I could plug it into a device that would print out a series of memories and experiences in dashes, beeps and lines. It slips onto each one of my fingers with perfect ease. My first and third finger have been molded to remember the touch of the metal against my skin. The ring is familiar to my fingers the way an old coat feels when put on for the first time in months. It's the smallest thing I own that's never been lost or misplaced or dropped down a drain. It doesn't catch or snag on sweaters, hair, or towels, because its edges have been worn down with constant use. To anyone else, it's a piece of metal. But to me, it's much more.

I found the ring in a flea market in Amsterdam. I had been looking for just the right ring for a long time, with results that were not dissimilar to Goldilocks' quest for perfect porridge. Some were too big, others too small. Some had gems, some were too thin, some had ugly designs or were etched with crosses, skulls or hearts. I was looking for something simple and understated, and that day in the market, I found it. Glinting in the April afternoon sun, it lay among others in a black velvet stand on a table. The woman running the booth was eccentrically dressed, with a long brightly patterned skirt and a boldly colored sweater. The wrinkles around her face shifted like sand as she spoke to me, rising and falling, some disappearing altogether. I pulled several rings from the tray, hoping to find just the right one. Then, there it was. Elegant, clean, and perfectly fitted. I asked the woman how much it cost, and she answered in heavily accented English. I performed the euros-to-American dollars conversion in my head and pulled out a few colorful bills from my wallet. I paid the woman and slipped the ring onto my finger. Little did I know at the time the importance the ring would have.
Just before I left to spend the spring term of my junior year abroad in Puerto Montt, Chile, I debated whether or not to bring the ring with me. A few days before the trip I organized the clothes, memorabilia, notebooks, photographs and other items that I would take. My brother sat on my bed watching me pack. "You know Caitlin," he said as I moved around piles of possessions again and again, each time rearranging items with a frown. "Once you're hundreds of miles away, it's really nice to have all of your own stuff." I knew I would be devastated if I lost the ring in Chile, but I decided to take it with me, hoping it would provide some familiarity.

My first day in Chile, I unpacked belongings in my new room, reluctant to accept that this was my new home. My clothes still smelled like the Tide laundry detergent my own mom used. Standing there in my new home on that first day made me finally appreciate what my brother had said. It didn't matter what I brought with me, as long as I had something familiar from home. It wasn't about what I brought with me, but just having something from home instantly made me feel homesick but comforted as well. Having the ring with me was the same thing. I was grateful for something so familiar, a connection to everything I had done and all the adventures I had gone on. It reminded me of the day I picked it out at the market, and by extension, my entire trip to Amsterdam with my parents; the way Galen always absentmindedly twisted it in his fingers when holding my hand; the way I spun it like a coin when I got nervous. Throughout my time in Chile, it was the little memories associated with the objects I had brought which helped me feel most connected to my life at home.

However, for me, the ring represents more than my connection to home. It represents my life as an adventurer and also as a girl. It grounds me in the belief that I can consider myself hardcore but feminine as well. These dual values are both central to my life. I grew up a feminist, and a strong believer that women can do anything. I had dreams of becoming a surgeon, solely because there are few women in that field. As I got older, I began exploring the great outdoors and became enamored with tales of high-altitude climbing and the adventures of heroes like Shackleton and Sir Edmund Hillary. To my dismay and feminist background, I found a distinct lack of stories about female explorers and expeditionists. Digging deeper, I became incredibly inspired by the few woman who years ago took part in all-male expeditions. Women like Arlene Blum and Wanda Rutkiewicz inspired my excitement about the outdoors. Because of this, I've worked hard to engage in the outdoor world while still remaining true to my identity. Climbing the highest mountain in Washington and looking down to see a ring on my hand made me feel proud of who I am. One of my friends' little sister is the black sheep in a family whose central value is outdoor appreciation. She'd rather go shopping than climb mountains, rather bake cookies than go for a hike. As a result of getting to know her better, it's become my wish for her to realize that girls can be into shopping and baking, as well as mountaineering.

For many people, rings represent the promise of marriage, chastity or the love of another person. Some people have a myriad of rings, grouped in a small tray on a dresser or on the hands of a mannequin doll. For some, it's merely an embellishment of an outfit. For me, however, it's not simply an accessory but rather a representation and reminder of the adventures I've been on and the incredible things I've done. Since I returned from Chile, I have taken the ring on every adventure with me; to the summit of Mount Rainier, through the high peaks of the Colorado Rockies, to school and back 1,000 times, and into Lake Washington in February. I've taken it backpacking, snowshoeing and skiing. I've worn it for choir concerts, theatre performances, and through Ultimate games in the pouring rain. I've worn it while climbing in the gym, petting the soft underbelly of my cat, and riding my bike in Seattle. I'm not a materialistic person, but I like having one object that has been through everything with me.

My ring collection has grown to four or five over the years, though none hold the same sentimental value as the first one I purchased. The others lay gathering dust in a tray on my dresser, overlaid on one another like hula hoops for tiny dancers. I have one with a bow, one with a 'c' and the most recent: a simple, thin, shiny silver band. Even though all of these rings fit, they don't fit right. They aren't familiar in the way my usual ring is, nor do they provide the same comforting feel on my fingers. I've resorted to wearing the old ring because of every experience that it represents. I'll be sure that whenever my next adventure comes, be it college, another mountain, or a family vacation, the ring will come with me.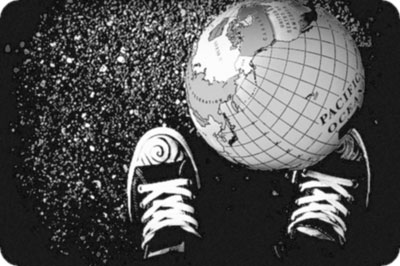 © Kailey E., Crownsville, MD