If Freedom Could Walk
February 3, 2014
Her arms were embellished with the inky tendrils of faded tattoos. Her hair was piled on top of her head, streaked, bleached, and dyed a wide spectrum of auburns and reds. Her petite frame was clothed in black leggings, which looked unbearably uncomfortable in the dry Austin heat, and a threadbare band t-shirt with a fraying hem hung on her bony shoulders.

I sat, gawking at her, my ice cream cone being obliterated by the afternoon sun.

The girl held in her hands a thick volume of Game of Thrones, her face completely buried in the black and white print, never raising her eyes once to watch where she was going. She was much too cool for that. For consideration. She was free from restrictions and rules, societal and legal alike.

I imagined her t-shirt was some thrift store find, or the first thing she picked up off the floor when making her speedy getaway from home. She hitchhiked, I'm sure, from some small town like NoOneCares, Oklahoma. Or maybe she traveled here with her friends in the back of a Volts Wagon van on some cross country road trip. Days spent exploring every little town they passed through with nights consisting of fire-side chats and lying under the stars.

I mean, what other ways are there to travel when you're young, wild, and free?

Free.

From her parents?
From the suffocating presence of her small town community?
From him?

Her tattoos and piercings screamed of some wounded past, sculpting her into a strong, self-reliant individual. The kind of girl who worked two jobs and returned home to her shoebox apartment where she lived with no one except her record player and laptop. But the way her eyes glowed excitedly as they scanned the words on the page, oblivious to the raging traffic around her, enticed and aroused my curiosity. I wanted to know her.

I imagined her strong yet kind. Care-free yet intellectual.

Independent.

But the way she walked, the way she dressed, the way she didn't care...

If "freedom" was a person this stranger was it.

And I wanted nothing more than to be her.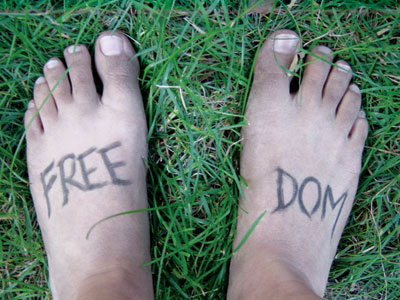 © Anna B., Northville, MI