Great Times.
January 26, 2014
Sometimes in life, you meet a person whose influence impacts you in the most unimaginable way. It changes you forever, in a good way obviously.
That is what happened to me and it totally changed me!
I am a straight A student. I always ended up taking my life too seriously. I always used to let minor issues get in the way of ruining my fun time. I think I just existed. All of my relatives used to think that I am "the ideal daughter". In other words, I was a weakling who did not defend herself ever.
I wanted to have fun, scream, enjoy, dance, laugh and roar. In february, 2013, my sister returned home from college for a few days. She brought her best friend Sharon with her. My sister is fun-loving kind of person, so was her friend.
They totally transformed me during their short stay of a week. I never had so much of fun! It was amazing what a few days of lightening up can do to your whole personality.
The first day we talked, gossiped about our pasts, shared boyfriend secrets. It felt so good to let out my thoughts to someone. We went cruising the mall one evening. We sat at a small table in the food court and laughed at every silly little thing that happened. All people passing by were staring at us with their mouths gawping. We laughed till we cried, literally.
We played in the game-zone. There was this game where you had to hit the bulky thing so hard with a hammer that the machine could show you the hitting intensity. We imagined that the round thing was the head of our most-hated people and we banged it as hard as we could. I imagined it to be the head of my physics professor. I won!
We went to a vineyard party where we danced our butts off for hours. I felt so good! It was like I had finally managed to crack my outer shell and out I came, a girl who loved making the most of life.
We used to stay up till 3 in the night watching romedies. They left soon and I never felt so bad. I actually shed a tear or too! But those few days had a profound and a permanent effect on me.
Now, I am totally confident about myself ( My friends say this, I believe them, and myself as well). I love life. I can't wait to experience more.
In a couple of months, I am moving out of my parental zone to begin college. I can't wait to make great friends and laugh again.
I will probably meet more people like Sharon and my sister. But, I know that the real mantra behind enjoying life is just confidence. It is standing up for your ideas and going forth with them. I am glad I have my sister and even more glad that I have known Sharon.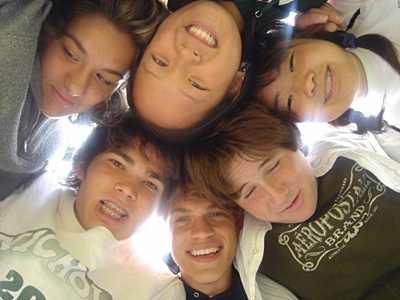 © Zhihan C., Hudson, OH