Lawrence
October 6, 2013
Where the streets begin to break down, that is where home is. Once the roads turn from stone to fissures upon the earth, I have left the lands that do not belong to me. The city's welcome sign, brown and red from dirt and rust, is slightly bent on the bottom left and it rises from the small patch of earth at an uneven angle. The bus jumps against the potholes that litter the corners, skidding dangerously through the narrow paths before gaining speed across the short flats of even road. From the small window, in a blur of green, the houses slowly deteriorate and stains drag along the walls.

Every once in awhile, there is a burned house, the wood like charcoal in a mess of rubble and memory and the wind shifts the black dust across the city. The sidewalk is dotted with gum, now black and gray, like falling rain upon cement. The lampposts are black and stained where the light shines, and at night, flying critters swarm it and they dance until sunrise. The billboards are bilingual and the store signs sing in Spanish. On Sunday mornings, crowds of colorful people walk in their suits and dresses to Mass where they congregate in sacred hymns of prayer to their lord, their spring of hope, and like giraffes, their necks reach for the skies in unmatched praise.

There are shouts coming from the park where they play baseball. The elderly laugh and sit and play dominos on sleek, black tables and a woman, tender and aging, sells flavored ice for a dollar at the corner. The smell of coffee penetrates the air from inside apartments, and slow moving jazz vibrates along the fences of the city.

I am afraid of moving on from these streets where I have ingrained myself for so long. As each day passes, there is less time for me here, and soon there will come a day where that time will be no more, and I will be walking under a different shade of sky, where the colors are new and the air tastes differently. As each season passes, the leaves begin to burn gold before peaking red and orange, and the branches on the trees begin to look like a witch's head of hair and the snow collects like dreams on the battered street. My foot advances towards an exit which pulls at me. There is no blizzard or drought, or wind or song of praise that can deter me from moving forward: the current is forever and sure. These last moments here are honey-sweet, slow and peaceful.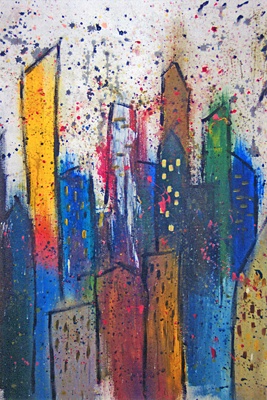 © Chase C., Centerville, OH