Can Lost Things Be Found
June 7, 2013
Some days I feel as if, maybe, life has no meaning, no real purpose. I feel as if this world gives me nothing but the left over crap and if I have to feel disappointment in the pit of my stomach one more time I will give up, give up because nothing will just fucking work out.

Some days my depression takes over and I want to feel nothing, I want to be nothing, I want to fade into the night itself like the wind on the summer breeze. Some nights the war in my mind is too loud and I can hear nothing else.

I don't really know why I never truly give up. I search for why, but I can't find it. Sure, I have those who love me and I love them, I have plans for the future and so on. But throughout my life my sense of hope is being killed. I always used to hope, and that hope always let me down. I learned that to hope was to live in a fairytale, and it was better to stick to the truth, no matter how painful, and you would never be let down. But this never worked, because as hard as I tried, a little part of me, however how small, would keep on thinking, whatever it was at that time, its going to work out. And all these times, I was destroyed.

Once I friend asked me why I was such a pessimist. She said I was being negative and annoying. But that girl, she'll never have to hope for anything. All her life, she's gotten what she's desired, and always will. She'll never have to worry about college or parents getting the bills paid. She sleeps on a queen sized bed every night and never desires anything.

I want to pull myself up, into the sunrise, I want to make a bright future for myself, and I know I have it in my capabilities. But I need something, something to inspire me, other than my own plans. I need something, and I keep waiting for it, but it doesn't come. Will my conquest to find a "muse" let me down or will I finally find what I was searching for?

The future and what it holds is all that keeps me completely sane, its all that tunes out the war, its all that doesn't let me disappear into the summer breeze.

All I know is that singing blues has been getting old. And so I search for a part of me who believes, a part of me long since lost.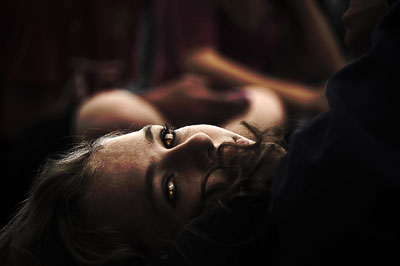 © Calvin C., Salt Lake City, UT