To A Man I Never Knew
April 30, 2013
I was uncomfortable to see you stiff and unmoving like that compared to what I used to know. Instead of looking at your frozen face, I thought of memories. It was always unnerving to go to your house. I knew my grandmother didn't like you, because you ran off with her best friend. I knew my father didn't get along with you, but I never really knew why. I still don't completely understand. I knew my uncle Rodney, my dad's only blood brother, didn't get along with you either. That miscommunication happened before I was born. When Rodney was 11 and my dad was four, you stopped being their father so that you could father a new family of kids. You moved over 400 miles away from your own children. To this day I don't know a single other parent that could go through that. It was always weird, though, because before you both moved away, your new stepchildren went to school with Rodney. I could never imagine my own father suddenly becoming my classmate's father.
In your new family, there were four girls and one boy. None of which were your own. Always a clique, the girls were hardly ever apart. The youngest boy was cared for his whole life, so I really don't think he's ever learned to grow up to this day. To everyone in the world, on the face of it, your family seemed like the stereotypical, perfect urban family.
Over 30 years ago, the girls started having children. We're all around the same age. There is Sarah, Hank, Mitchell, Tommy, Eric, Derek, T-Claes, and myself. I am the youngest, and by far the tallest. Evidently all of them got their height from their mother. I vaguely remember being teased by Mitch and Tommy, and playing on the airplane swing set with Hank and T-Claes. That was a long time ago now.
There are a lot of specific things I remember about being at your house. I remember Mary's cookies, quilting, gardens, and collections. All of your antiques that were either old, war-related, had wolves on them, and guns are still vivid in my mind. I even remember your dirty magazines that were pinned up down in the basement. Those always made me feel uncomfortable, but I hardly knew what they were. One of my favorite parts from going to your house was your dog, Freckles. I've never really been a dog person, but she was undoubtedly my favorite dog. I remember having to sleep over at your house for a week because my parents couldn't take me to Pioneer School. Every night the seemingly billion cuckoo clocks would go off, and I wouldn't get much rest. I can still hear them today.
Last Friday night when my half-sister called my mom, I didn't really think much of it. I heard my mother say "Sure, I'll have to look it up to see if I can find something." Then she went and sat down at her computer. I crept up behind and looked at her search bar: Darrell Gene Wolff. Mom told me that Emily heard something bad happened. I was on Skype with Bethany, so I told her what my mom said. About seven minutes, later my dad got a phone call from Brady. I watched as my dad's face changed emotions like flipping through channels on the TV. I thought back to when my mom and I were stopping by a car show at the farmer's market. I'd seen your face in the crowd walking toward us. I didn't want to deal with talking to you then and there, figuring I would inevitably see you at my graduation. Little did I know I'd regret not talking to you until after my dad hung up the phone.
"Darrell died of a massive heart attack this morning," my dad carelessly claimed. My mother and I dropped our jaws. This was the first time in eight years my dad had said your name. Shortly after my dad's nearly fatal case of influenza and atrial fibrillation, our families just across the highway had stopped speaking to each other.
Not a tear was spilled; as a family we didn't know how to react.
My dad refused to go to your funeral, saying he made his decision a long time ago. He cussed about you; not hiding any emotions. He was mainly upset that we weren't even told by family, and that your daughters had to flip a coin about calling us. I was upset because nothing was ever resolved, but I didn't blame you or anyone for it.
I hung up with Bethany and sat and thought. I wanted to go, but I could never tell my dad that.
Saturday evening I left with my mom to go see her family in the cities.
We got back and my mom asked "Did anyone stop or call?"
"Not just five minutes ago," my dad responded. Evidently, I was asked to be your casket carrier. I didn't know how to respond to that. I knew dad didn't want me to do it, and I wasn't that comfortable with it anyway. I ended up calling Cheryl back saying I didn't want to do it. Dad called Rodney to tell him what just happened. Rodney wanted to go to the visitation and funeral to be there for me, but also to make peace. Dad ended up saying yes to it.
Tuesday Mom took me out of school, and we got ready for the visitation. As we walked in, there was a lot of crying and hugging. Each one of my aunts, uncles, cousins, and grandmother were happy to see us after so many years. I saw you across the room, unable to look for more than 3 seconds.
Mary told me, "If he were here he'd tell you how beautiful you grew up to be."
This made me stop in my tracks. If you didn't want us there when you were living, you didn't want us there now.
I don't know what you would've wanted, but I'm glad we went. All three of us stood in front of your coffin, and my mom gave me a nickel to put in your pocket. On my mom's side, a nickel meant good luck or good job. Every muscle in me tingled to stop me as I touched your cold, lifeless body, but I did it for my parents. I'm partially glad I did. I partially feel like I may have invaded your space. After that, we tended to stay in the room where all of the pictures and slide show was. We talked to a lot of people I've never even met before. After three hours of standing, hugging, and talking to people, we finally went home. It was very exhausting. Wednesday I missed school to go to your funeral. We brought Emily and Allivia with us. You may not know who they are or even want to know, but you should. Emily was one of your first granddaughters, and Allivia was your one and only great grandchild. You never met them, or even acknowledged them. But again, I don't blame you for it. The funeral service went great, and I enjoyed the stories about you. Most of the things Bob Johnson talked about, I remembered. And in the end, I don't know what you would've wanted. I ended up being one of your casket carriers. I'll probably never see any of your new family again, but peace has been made. This is just a letter you will never read- to you: a man I hardly knew.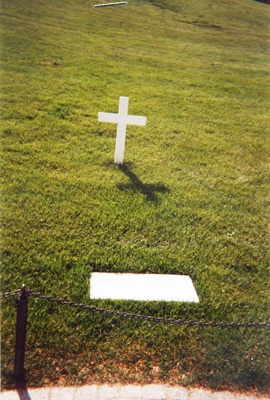 © Whitney T., Glenpool, OK