First Kiss
April 15, 2013
I was at lunch with my friends and my boyfriend at the time. It was our typical lunch, people yelling, eating other peoples food, and some idiot poured milk on the table again. The lunch room might as well be a One Direction concert. I of course was being incredibly awkward as I am when I sit near people I like. As I stare at the milk that someone is now putting noodles in with a disgusted face I hear my boyfriend whisper "I love you."
Reality kicked in now. Oh gosh did he just say he loves me? He did didn't he!? Well I don't love him what do I say? I went with a safe response, say he doesn't. "Haha no you don't." I nervously said turning back to the milk.
That's when my face was gently turned around and and pulled closer. Our lips touched, and I felt his soft pink lips up against mine. This is what a kiss fells like? My lip virginity is gone? Four seconds and it's gone? I completely forgot about the milk.
"Is that all of the proof you need to know that I love you." He said with a smile on his face as he pulled away. What do I say? What do I do? I just sat there once again staring at milk with noodles in it. Could I be more awkward? Thank Jesus The bell saved me from that awkward situation.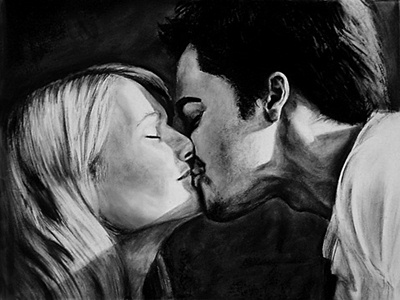 © Lauren R., Marshfield, MA