Sanctuary
March 18, 2013
For the past fifteen years of my life my family has spent many summer days at Briggs Beach. Our cabana is not large enough to call a house, but it is still a home. Its two rooms are painted a sandy color and the windows are trimmed with navy blue curtains. With two couches and bookshelves lining the walls, it is the perfect place to step inside to take a break from the sun or take shelter from a passing shower. But the best part of our small cabana is the porch. From the porch I can see our neighbor's cabanas which are bordered by dark green bushes and trees in which live countless wild rabbits. In the evening, lightening bugs wink like sparks of fire among the branches. In the distance the ocean stretches toward the horizon and seems to go on forever. The view of the ocean is a clear reflection of how distant this sanctuary is from the rest of civilization. There are no telephone poles or wires obscuring the view. Cell phone service is scarce and the internet is unavailable. Our summer home is a complete disconnect from the modern world and its distractions. In the quiet peacefulness that stems from this disconnect I am able to reconnect with nature.

I can recall hours spent under the hot summer sun building sandcastles on the beach, running between the crashing waves and taking long walks on the beach. The wonderful thing about Briggs is that my parents were able to give me the freedom to do all of this mostly unsupervised. It's the type of community where everybody keeps an eye out for each other's little ones and there is a common well-understood trust. When I spend any amount of time here I feel as if I am constantly surrounded by family. Growing up in an environment like this with the freedom to explore the hidden paths unrestricted, or to find a way out of a tight space between the rocks has allowed me to create and nurture a connection with the natural world around me, a connection that I had never really thought about until this semester.


As we read in class the works of Rachel Carson, Rick Bass, Jonathan Franzen and Donovan Hohn, I found myself recalling memories of the long summer days of my childhood and forming connections between the writers' experiences and my own. Just as Rachel Carson described the constantly shifting tides and the abundance of life in tidal pools in "A Marginal World," I remembered adventures out on to the rocks with my grandfather. When the tide was at its lowest point we would walk carefully over small barnacle-encrusted rocks out to the huge rocks which were surrounded by tide pools. But you had to be careful to time the adventure just right; if you waited too long, the easy path before you out to the rocks would be covered by the incoming tide with very deep water. While reading "A Texas Childhood" and imagining Bass's experiences under the wide expanse of the night sky, I reflected upon the evenings I spent gazing up into the star filled sky.

Besides reconnecting with my own childhood memories, I feel that I gained a greater lesson from all that we did in class. From all of the readings and discussions, I have found that I have to do something to protect nature and the sanctuary that allowed me to have these experiences. After reading "Plastic Ocean" and "Moby Duck" I am aware of the danger my beach is in. Oceans and smaller bodies of water are being filled with toxic run off and garbage. Global warming has caused tides to rise and natural disasters to become even more destructive. All of this has an impact upon the beach. My grandparents and even my mother have told me about how much of the beach has already been lost to erosion.

At the farthest end of the beach, where the sand is taken over by rocks, there is a tall cliff. Each spring when we return after the long winter more and more of it seems to have disappeared. Faced with all of this it truly seems daunting and I am lost as to where to begin, or even if there is a solution. But I know there has to be and that I will help to find it. Because I want my children and grandchildren to have a place to go where they can run through the grass, gaze at the night sky without the obstacle of city lights, and form a connection with nature. I want them to have the same opportunity for a place of escape and sanctuary that I had growing up.

Works Cited
Bass, Rick. "A Texas Childhood". The Best American Spiritual Writing 2004. Phillip Zalesski,ed. Boston: Houghton Mifflin, 2004.

Carson, Rachel. "The Marginal World." The Best American Essays of the Century. Joyce Carol Oates and Robert Atwan, eds. Boston: Houghton Mifflin, 2000.

Casey, Susan. "Plastic Ocean." Best Life Magazine 20 Feb. 2007: n. pag. Love for Life. Fiona Cristian. Web. 10 Dec. 2012.

Hohn, Donovan. "Moby-Duck." Harper's Magazine n.d.: n. pag.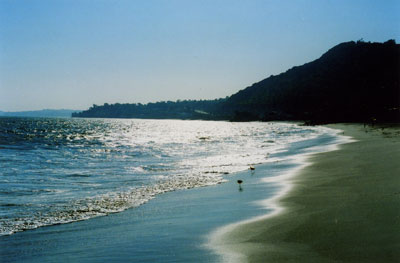 © Adam L., Washington, DC