Falling Apart
March 7, 2013
I don't know what a losing a parent to death is like. I don't know what it's like to be so hungry out in the street all I want to do is fall down and cry and scream. I don't even know what's is like to be abused by a loved one or boyfriend and have to lie to my friends about it. All in all, I've been pretty lucky.

Doesn't stop the pain when things get bad for me.

I do know what having a father who leaves you for something better. In another STATE.
"I have news, baby."
"Yeah, Dad?"
"Remember the job offer I got in Colorado? The one I went to training for in Phoenix?"
Stab to the heart. I don't like talking about it. For obvious reasons. I mean, Colorado. That's like mid-west/West Coast. A ridiculous long way away. "Yeah."
"Well it turns out CarMax is moving me there!"
I think that was the day I experienced the ultimate heartbreak.

I can still feel the fat, hot tears slide down my makeup covered face. His rough, big hand holding mine, small and fragile. Problem was, and is, Dad and I always had a strained relationship. My stepmom is an evil witch, but that's another story. He kept trying to console me, saying we would still see each other and we had about two months left together. Eventually I just told him to shut up. Either way, this was the case: my stepmom quit her job, she decided to pop out two kids (I love my babies though), putting them in a dangerous financial state. My dad didn't go to college, so his only option was his previous employer, CarMax. Today, he is now a sales manager, which I am so proud of him for, at their new store in Denver.

He is gone now, in the cool, high climate of Denver. He didn't just pack up and leave an empty house, my own father left behind a broken and mutilated heart. It still calls from its child-like mind, "Daddy, Daddy, please come back!" My brother and sister are growing up without me there to watch. My stister is crawling now. My brother has probably learned a new word and I can't hear it. Dad won't shake my prom date's hand; he won't be able to teach me how to drive like he always wanted to. He "won't" a lot of things.
I love you Daddy. I understand why you left.

Cancer, the disease that rocks millions to their core. Literally, it's in their bodies. Imagine having to carry that disease around. One of those millions? My grandfather,who has had skin cancer once before and it "went away" for a years. Now it has been found in his lymph nodes, meaning it can spread faster. It's the same thing that killed his father. It spread to his brain and made it stop functioning.

My mom tries to stay strong, she's been through so much. She told me that she is at that age where she needs to start preparing to lose her parents, but how do you prepare for that? You don't, I would know. My grandma might lose her husband if he doesn't make it through this. God, I hate it! I'm losing things I wish I said, and things I wish I had done better.
Now is the time to do them.

So don't let memories and precious moments slip away. Make them now, not later. Tell people you love them. One day they could be gone. In more ways than one, like death or moving across the country. I am so sorry for us kids who have lost so much, and have endured so much. Abuse, low self-esteem, hunger, homeless, foster homes, the death of a parents, and so much more! The list goes on. No, my life isn't the worst ever. Yes, I have pain. Don't tell me I am perfect, that you want to be me. You don't know me and you sure as hell don't know my inner turmoil.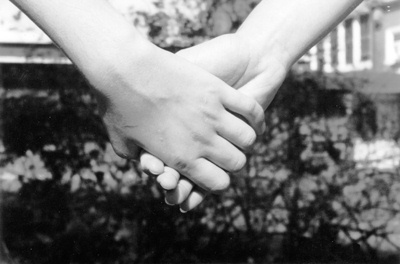 © Lauren G., Pompton Plains, NJ