Fish, Turtles, and a Snorkel Pacified the Pacific for Me
February 26, 2013
I have always regarded the ocean with a suspicious look, aware of its enormous power. On the islands of Hawaii, the effect of its power is apparent. All other places that lay on the same latitude the Hawaiian Islands do in the world are deserts, but, surrounded by the Pacific Ocean, they are a tropical paradise. And the place my mom and her new husband had chosen as a honeymoon destination, mercifully taking my brother and me with them (which isn't as awkward as it sounds).

Now, as the sun broke out over the jagged mountains of Oahu and shone on the waters of the Pacific, it found my family and I on a Catamaran with twenty others, smiling at Spinner Dolphins who were doing just what their name suggests: spinning in the air. As they grew tired of their play and moved towards a group of snorkelers and our sails were unfurled to move further down the coast, I looked at my surroundings and found an intense beauty in every direction. The mountains that glowed green, the black rocky coast with the occasional tan pocket of sand, and all around me a bright and perilous blue that I wasn't accustomed to an ocean wearing, mostly knowing the dark blue, grey, and green of the misty Northern California coast. I could even look down through a network of black rope that held me and the other passengers suspended just over the clear water and see the pink coral on the ocean floor, thirty feet down. I sighed, a foreign but peaceful feeling filling me, understanding that it was absolute happiness and wonder.

That began to change though as our sails were tied and we stopped at a place called Turtle Cove, everyone busying themselves with lifejackets, snorkels, and goggles. A feeling of dread spread though me. I wanted to sun myself on the Catamaran and enjoy the views around me, and I had never snorkeled before. I realized that it was happening to me though, and quickly too, as a heavily tanned and muscled crew member pointed his rushed wave to get into the water at me. Sucking in a breath, I climbed down the stairs they had lowered from the deck into the ocean and pulled on my flippers and mask. Just as I had expected, the cool water raised chilled bumps across my skin, but I jumped in anyway, making room for the person behind me. Normally I was known as a polar bear in my family, braving and even craving the cold, my favorite season being a tie between winter and autumn, but this morning I was Hawaiian sun-kissed and wanted nothing to do with the ocean that felt frigid to me in that moment.

It didn't help that my mask and snorkel kept filling up with salty water either. Blinded, gagged, and frustrated, I attempted to get back onto the boat, but a crew member and my mother helped me find a mask that fit, and so I put my face back to the water's surface and opened my eyes. Fish were all around me, big ones, little ones, red, green, white, grey, blue, yellow, purple, black, with pointed faces, or flattened bodies, elongated forms, graceful movements. Eyes wide, I whipped my head back and forth trying to catch every detail, every breath this world took that I had been ignorant to before. Also, paddling through the masses of fish were giant sea turtles (hint: Turtle Cove), looking us in the face while they surfaced before resting on the sandy bottom below us. I clutched my arms to my chest to warm myself and then forgot all about me, mesmerized with the busy fish and the stoic magnificence of the turtles.

Time went by faster in this fascinating underwater world, and before I was really ready to, I was shivering and climbing the stairs back onto the Catamaran. I looked back longingly into the rippling Pacific waters, its thorough beauty lost on me once I returned to my terrestrial world, but it was not forgotten. As we headed back to the dock, the ocean beckoned to me to come back someday, ignore its awesome power, and mingle with it amiably once more.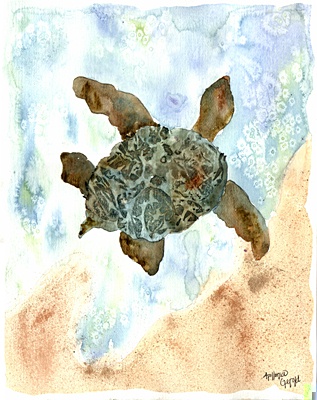 © Apollonia G., Buffalo, MN