Daisy Buchanan
MAG
February 12, 2013
I have a lot of smart friends who are so empty and happy. They have single-digit class ranks and that easy laughter that isn't scared at all. It makes me sick. Their recklessness is apparent in their bad posture, the way they all sit with their spines bowed and their hips forward like pregnant women about to produce something. This summer they had parties all the time in their big white homes above Portland. I helped them litter all over their manicured lawns. We all went wild at those parties, like we knew we'd end up somewhere high and polished. For the time being, we could be privileged and stupid together and just waste time laughing loudly.

Our parties were always big and loud, but there were very particular restrictions. In order to attend, you had to bring evidence of a grade point average of 3.5 or better. An entrance ticket was a transcript or report card.

I never brought Sloane and Roy to these parties with me because I knew Roy wouldn't pass the GPA test. Sloane would have passed without a doubt, but that summer was theirs, and I felt like an interruption all the time anyway, so I never called her. I would see Roy's car in her driveway as I painted my face accordingly for each party, and I would wonder about her priorities and which one of us was a good person and which was a bad person.

Then I would drive off in a loud car with some 4.0 friend of mine, wondering about Sloane and her mysterious coexistence with Roy. At that point, I wasn't capable of grasping Roy's value. I would ride away in a tight dress and be sure that I was headed for a superior night with elite, empty people. Happiness wasn't the question; it was purely status. The transcript in my bag – a 3.7 – would barely suffice, but I had long brown legs and little white collarbones, so I was a package deal. I would stay out all night at those sick, elite parties and come home sweaty and tearful.

It was an issue of connection. I was broken and incorrect. Sitting there alone at some smart stranger's house, I felt separate. I lacked the looseness of my smart friends. And I was hiding it poorly. At those parties I tried a bunch of different ways of being useful, and they all left me curled up sick on the carpet. Looking back, I was sick for a really, really long time.

I met Simon at the Great Gatsby-themed party. We wanted to simulate one of Gatsby's big, colorful parties at Saul's house. Everyone wore 1920s clothes, and we blasted old jazz that sounded like moldy library books burning on a fire. The important ones, the hosts, were cast as the characters. Jack was Tom just because he's big. Jenna was Myrtle because of her voluptuous figure. Valerie was Jordan because she knows everything. We made Calvin Meyer Wolfsheim because he didn't fit anywhere else. Everyone knew Calvin faked the GPA on his transcript, but we always let him in anyway because he was so floppy and wild and stupid in the correct, intelligent way.

Saul was Gatsby, which was very fitting. He really was Gatsby, I think. He held onto things dangerously, just as Gatsby does. All the disappointing sentimentality was there. He came down the stairs ceremoniously, drained by the white Christmas lights that were strung everywhere, wearing pink silk and a gold suit just like Gatsby.

I was Daisy, in something tight and white and lacy that revealed my feminine geometrics. I doubt he made me Daisy on purpose or to convey some secret, sweeping metaphor. When he read Gatsby, he was impressed by the metaphors, not encouraged by them. I had kissed Saul that summer, kissed him hard, but he still never looked me in the eye.

We entered together on the dramatic staircase because our characters had forbidden chemistry. They all applauded us, and he smiled and waved at them, not even coming close to touching me. I tried my best to be a painted, buoyant fool like Daisy, but almost immediately I felt sick and tight inside. As Daisy, I represented cruel unattainability. But instead of powerful, I felt fragile.

Simon was standing in the back with Calvin. He didn't go to our school, and Calvin faked him a 3.8 report card to get in. Calvin was Simon's old best friend. We cast Simon as Nick Carraway because he was dark-eyed and on the outside. He mostly watched us laughing and didn't say much.

That night I felt myself spinning out of control as I stood on top of glass ­tables and threw my arms up over my head. I pushed my liquid hips at Saul and put my soft legs near his pale face. I knew he could feel how warm I was. Pretty soon everything started looking ambiguous and blurred like an impressionist painting. I just moved my hips in my tight dress. Lots of hands touched my shoulder blades, and the jazz made my ears feel slippery. Each time Saul looked my way I made a tally in my head. Ten meant we'd kiss later on the lawn behind the big trees.

I think I heard the glass table break when I lost consciousness and fell. I woke up on top of dark red stains, hybrid blood and wine, with a few people standing over me. Saul took one of my arms and hauled me into the guest room and shut the door. I tried to grab at his tie, cry over his silk shirts like Daisy does in Gatsby. He just pushed me onto the bed and grumbled about cleaning up the carpet. He was the coward, but I was the one who felt at fault. My eyes were like a dim kaleidoscope, but I saw Simon move into the room in a dark blur. I sat up on the bed and folded my knees against my chest. He looked at me, big-eyed and so much darker than Saul.

"Are you okay?" he asked.

"No," I said. "No, I'm not." It was a difficult confession. I needed to be okay. I was painted like a doll and smarter than 98 percent of standardized testers. I was going to college, a good one. I needed to be okay, but I knew I wasn't, and somehow Simon made it slip out of me.

We explained ourselves to each other all night, Simon and I. That was when we found out that we both hate loud noises and like simple situations, like sleeping and moving our fingers.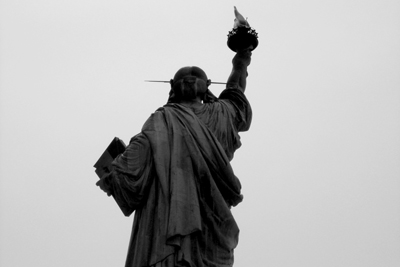 © Conor G., Harvard, MA