Censorship
February 11, 2013
My heart is broken, not by some silly boy, but because my true love is being restricted. Photography is my life. I express my opinions, thoughts and all aspects of my personality through it. When I found out measures were being taken to censor it, I was heartbroken. What would I, and my fellow photography classmates, do if we could not express ourselves the way we wanted to?
I was walking around the cluttered mess of art taken down after the Winter Art Show. I spent fifteen minutes looking for my photo before I gave up and headed back to my photography classroom. When I told my teacher I could not find it, she was not surprised, as my photo was one of many in the show that started the great debate on whether our photos were appropriate or not. The show took place the weekend of the school shooting in Connecticut. Emotions were running high, people were concerned. Many people saw my photo, a foggy image of a girl lying on the ground next to a photograph of a bottle of pills. The message was clear, and made to evoke emotion. I did not think this emotion would go as far as teachers reporting it, and a police officer ripping it down from the show. My school counselor had called my parents the day it was taken down. She wanted them to talk to me and make sure I was okay and not contemplating suicide. I was not; my photograph was a message against suicide and drug overdose if anything. My parents knew about the photo, knew I was fine, and were proud that it was in the art show. They were not happy when they found out, a week after it had happened, that a police officer removed it.
My teacher and I had a private conversation about it, which led to a conversation with the whole class. My teacher was very sad to tell us she was attending a meeting with the art department to decide what photos are appropriate for the future. She looked terrified as to what the outcome could be. She still thinks this censorship will get way out of hand to the point where no upsetting or troubling images are allowed.
Many of the photographs in the art show deemed inappropriate ironically had to do with speech being taken away. One was of a girl with her mouth sewn shut; I wonder what the message was there? My teacher encourages us to have strong, powerful photos about touchy, or even disturbing, subjects. Those are the photos that get the most attention. Those are the ones that really make people think and receive emotional responses. Photographs of flowers and other cliché subjects are attractive, but do not make you think like a photo of, for instance, a Barbie doll set on fire. The school was about to take away everything our photography students excel in, hidden messages that are generally uncomfortable or dark. And they still might.
This censorship stretched beyond the school. It made its way into a photography contest our students enter every year. Usually our school's large amounts of thought-provoking and dark-messaged photographs win many of the awards. This year it was different. The unsettling photographs and portfolios did not win. Some did, but not as many as the past years. Censorship is creeping beyond the school level.
People should not take away our, my, ability to photograph what I want. I can still take these "inappropriate" photos, but they will never be accepted because of people who do not understand true art. This is an ongoing problem. I do not know what the exact solution is. Nobody does. But nobody's artwork, their feelings and expression, should be limited.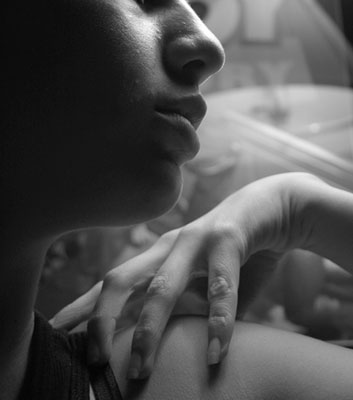 © Rebecca B., Santa Clara, CA