Survivor
January 27, 2013
A big rough looking Dad standing in the kitchen looking out the sliding-glass doors into a cold February night crying. Mom pregnant and two weeks over-due, standing in the dinning room looking out a window into the same cold February night also crying silently; phone keeps ringing, and going to voice mail.

Voice mail
Shaw its your mom and dad, we are worried you said you were taking Kayla to the doctors for a check-up, please call us and let us know what the doctor said, we are worried.

Dad and mom still standing in the same spots. No one moves to answer the phone. Silence…. Phone rings again.

Voice mail
Shane this is your mom we are worried, you haven't called us to let us know what the doctor said, is Kayla okay? Give us a call love you.

Mom
Shane, we need to answer the phone sometime. If we don't you know our parents are going to show up.

Dad
I don't want anybody here.

Mom
Well, then we need to tell our parents.

Dad
And, how do we do that?

Mom
I don't know. God, what do I say to them?

Dad
I don't know, but I don't want anybody here.

Mom and dad still in the same spots. Car lights are seen pulling into the drive way through the glass door. Dad turns towards mom with anger and anguish on his face.

Dad
Jesus f***ing Christ! I said I didn't want anybody here, who the f*** is this now?!

Mom
Oh God, Shane, I don't know. It's probably one of our parents we should have called.

Mom still in the same spot looking out the window in the dinning room. Dads turning on the outside and kitchen light to see who is in the driveway.

Dad
F***, Shaw, it's my mom and dad. How am I going to tell them?

Mom
(whispering)
I don't know.

Grandparents(1) walking through the door. Dad's pacing the kitchen wiping the tears from his face. Mom takes a deep breath wipes the tears from her face walking into the kitchen. Grandparents(1) look at Mom and Dad and freeze in mid-stride.

Grandma(1)
What happened?

Dad
They said…

Mom
They said they found a mass in Kayla's abdomen.

Grandpa(1)
Now wait a minute! Now how do they know? These doctors now-a-days mess up all the time!

Dad walks to stand next to Mom supporting her by putting his hand on her back. Grandparents are just inside the door, with their winter coats still on and the kitchen island separating the couples.

Mom
(slams hand on island counter-top. Voiced raised and shaky)
DAMMIT DAD, YOU NEED TO LISTEN! This is not a mistake, and we all need to prepare. We saw it with our own eyes during the ultrasound! (whisper and very shaky) It's big Dad… and it's cancer.
Mom goes to the kitchen cupboard, pulls down mugs and starts pouring coffee. Dad and grandparents pull out chairs and sit at the kitchen island. Tension very strong and nerves stretched to the limit.

Grandpa(1)
Did you tell Kayla?
Mom
No. I don't even know how to explain this to a three year old.
Grandma(1)
So what happens now?
Dad
We're waiting on the doctor to call us. We're supposed to go down tomorrow to the children's hospital for more testing.

All four now sitting at the island in silence. Phone rings, again.

Dad
Better get that Shaw, it could be the doctor.
Mom gets up, moves out of the kitchen and in to the dinning room to answer the phone.


Mom
Hello?
Grandma(2)
Shaw, what's going on? Why haven't you called your dad and me back?

Mom
Oh.. Mom, it's real bad. (talking fast, crying, everything running together, whispering so Grandparents(1) and Dad don't hear) All I did was take her in to see if she was dehydrated from throwing up all night, that's all I did. All I wanted to do was make sure she was okay I just got little Shane out of the hospital from dehydration, I'm two weeks over-due I can't afford to have another child in the hospital. (sobbing, incoherent)

Grandma(2)
Shaw, honey, talk to me. What's going on?

Mom
They found cancer.

Grandma(2)
(Loud gasp) What?! Oh God. Barry! GET ON THE OTHER LINE! Oh Jesus Shaw how did they find that?

Grandpa(2)
(Deep authoritative voice)
Shaw Marie, now tell Dad everything they said.

Mom
The doctor was checking Kayla to make sure she wasn't dehydrated because I told them I just got little Shane out of the hospital. I can't afford to have another kid in the hospital while I'm over-due. Barb was looking her over and said to me: "Why don't we just do her physical now? You're ready to drop that baby any day now, and her physical is due next week anyways." All she did Dad was push on her stomach to make sure her kidneys were okay and she felt a mass. She thought it was a bowel obstruction and just to make sure she ordered an ultrasound. I saw it Dad, it's really big. It's the whole side of her. God, it's huge. (starts sobbing uncontrollably)

Grandma(2)
We're coming over.

Mom
(Whispering through tears) I don't know Mom, I don't know if you should, Shane said he doesn't want anyone here and his parents showed up.

Grandma(2)
What do you want us to do?

Mom
I need you here.

Grandpa(2)
We're on our way, Honey.


Mom hangs up the phone, taking deep breathes to calm down, wiping the tears from her face, squares her shoulders and walks back into the kitchen. Grandparents(1) and Dad are still sitting at the island.

Dad
Was that the doctor?

Mom
No, it was my parents. They're coming over.

Dad
Dammit Shaw!

Mom
(starts to cry) I need my parents too.

Grandma(1)
Shane, she needs her parents.

All four sitting around the island in silence. Grandparents(2) arrive. Mom gets more mugs out of the cupboard and pours more coffee. Everyone is saying their hellos, talking about anything but what they're heading into. Phone rings, once again. Everyone goes silent.

Dad
It has to be the doctor, our parents are here.

Mom
(takes a shaky deep breath, whisper)
Yep.

Mom walks into the dinning room picks up phone, walks back to her window stares out into the empty field

Mom
Hello?

Doctor
Shaw.

Mom
Hi, Dr. Pagana.

Doctor
(takes deep breath) I sent her scan to the children's hospital, the oncologist reviewed it. I am so sorry Shaw, you need to pack to stay. She's getting admitted tomorrow.

Mom
What do you mean pack to stay? Dr. Pagana you know I'm two weeks over-due! What's going to happen?

Doctor
The oncologist feels.. he said the best course of action is to admit her, do their own scans tomorrow morning and immediately do surgery the next day.

Mom
Why are they moving so fast? I don't understand.

Doctor
The oncologist and I studied her ultrasound and it looks like it's either Wilms-tumor or Nueroblastoma.. They are both cancer. This is a definite. Yes… she does have cancer.

Mom
(crying, whispering) Am I going to bring my baby home?

Doctor
I don't know, Shaw. We all need to hope and pray that it's Wilms-tumor. You look around her room tonight, and pack up her favorite things to take with you. I don't know how long you'll be there, but I do know it will be quite awhile. Make her room at the hospital, her room, she needs to be as comfortable as possible. Can you make it to the hospital by 6 in the morning?

Mom
Yes. Thank you Dr. Pagana.

Doctor
You're welcome. Give her a hug for me, and remember you can do this.

Mom
(crying) I hope so. Goodbye.

Mom standing at her window for what felt like hours, but was only minutes, fighting the urge to just pack her children up and just run away from reality. She squares her shoulders again wiping the tears away with the look on her face of determination. She walks back into the kitchen.

Dad
Was that the doctor?

Mom
Yep. I'm going to tell you guys exactly what he said and exactly what is going to happen. Dr. Pagana said we need to pack to stay.

Everyone is talking at once asking questions trying to be the loudest.

Mom
(Slams hand on the counter-top again. Talks with a low stern voice) Everyone, please, just listen. We need to pack to stay, she will be in surgery the following day, after that we don't know. All I do knows we will be gone for quite awhile and I will not move my son out of his house. He is already going to wonder where his mom, dad, and sister are. Who ever is going to be taking care of him will be staying here. (tears rolling down her face) I asked Dr. Pagana is I was bringing my baby home and he said he did not know. So I need everyone to help us and the first thing we're going to do is figure out who is staying with Little Shane.

Mom puts the phone in the middle of the counter for them to find someone to stay with Little Shane. Mom speaks and says "and now I am going to talk to my daughter." and walks out of the room.

Mom walks into the living room looks down at her one year old son laying on the floorin just a diaper drinking his bottle while watching Barney. She looks over to the couch and looks at her three year old daughter who looks so healthy. Walks over and sits down on the couch next to Kayla. Kayla continues watching Barney. Mom sits in silence wondering what to say to her. Kayla slowly looks up at her mom.

Kayla
Why do you look so sad, Mommy?

Mom
You know how we went to the doctors today? You know how Barb pushed on your belly? and we had that picture taken of your belly?

Kayla
Uh huh

Mom
Well, (tears roll down her face) You have a ball in your belly that they call cancer and we're going to have to go to the hospital so the doctors can take it out. The doctor will give you sleeping medicine, after they take more pictures of your belly and when you're sleeping they're going to take the ball out of your belly. So when you wake up it will be all gone, because if we leave that in there it could make you really, really sick.

Kayla
(reaches her hand up and places it on her moms face) Oh, Mommy, it's okay. All kids have balls in their bellies.

Mom
(chuckles through the tears) I wish they did, Honey, but they don't.

Kayla
(looks up at her mom, softly speaks) Am I going to die?

Mom
(crying quietly) I don't know.

Kayla
Okay.

Kayla removes her hand from her moms face, lays down in her moms lap and starts to watch Barney again. Mom sits there softly crying and rubbing her back watching Barney with her.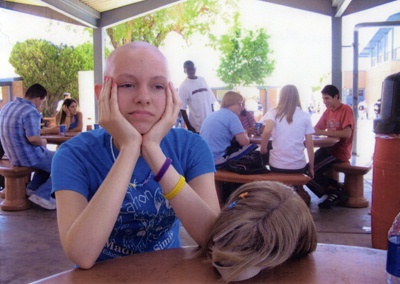 © Lauren M., Phoenix, AZ