Lake House
January 18, 2013
If you were to wake up early in the morning, for a glass of water or a trip to the bathroom or something of the sort, you would pitter patter into the hall, lean over the railing, and look out the floor-to-ceiling windows. From there, you would see a sheet of grayish blue glass lying facedown against the earth. I've never been the first one to break the glass, but someone always does, be it an old, rusty fisherman's boat or a young yahoo sliding by on a jetski.

When the family finally wakes up, scuffing their slippers across the wood floors, you have already made the coffee and are sitting on the deck, watching the first ripples form in the sheet of glass. Someone will make a big breakfast of warm, buttery pancakes and sausage and everyone will down it almost without chewing. You are not food-deprived; it's just difficult to wait for another bite.

If the morning clouds haven't been carried away yet, you all might sit down around the cushy ottoman and wonder for the umpteenth time why there is no game table here. You will play numerous hands of Euchre until the morning clouds have scattered. Your parents will try to convince you and your brother that diamonds are trump, but you will not be mislead. It was always hearts. Once everyone has gotten sufficiently tired of each other, you will hurry upstairs and throw on a nubby bathing suit and a yellowed t-shirt and slip your feet into a pair of rubber thongs. You'll stick your sunglasses over your eyes and press a book to your chest.

The glass is now covered in miniature ripples. Your brother and father will have pulled the pontoon boat up against the wooden dock, and you will hurry across the lawn in front of the house to get your favorite spot on the boat. Demand that the boys put up the awning so that you can have your feet in the sun, but your face in the shade. Sigh heavily to yourself as you crack open the spine of your book.

You will fall into a trance as the boat knocks rhythmically against the dock with the rise and pass of gentle waves. Once the boys return from a round of golf, lunch will be announced and you will realize at once that you are starving.

Back in the house, you station yourself at the granite countertop, mouth watering at the smell of turkey burgers, toasted cheese and sautéed onions as you help chop up lettuce and slice tomatoes. You wonder if there's any other family that values food the way yours does, and, after much deliberation, realize there is no such family. Your mouth continues to water as you consume your turkey burger and salt and vinegar chips.

The afternoon will pass with more reading, boating, and sunning. At some point, someone will turn up the radio on the boat and you will find it difficult to concentrate on your book, but this won't upset you. Has anyone ever been upset by the Eagles and Fleetwood Mac? You seriously doubt it.

Once everyone is properly coated with the greasy remains of sunscreen and lake water, you know it is time to hit the showers. Frozen margaritas, chips, and salsa will be complemented by a sunset cruise around the lake. Your parents will muse endlessly about the houses lined up on the lake's edge. And later, after the boats have been tucked away and the towels have been tossed in the wash, you will all sit down together and comment on each other's sun-kissed faces, enjoying yet another home-cooked meal. If there is corn from the farm down the street, everyone will reminisce over the time Grandma ate nine ears in a row. And your father will definitely say, "You know, we can make better food here than we can get at a restaurant."

When the dishes have been cleared and the ice cream sundaes have been scooped, you'll all slouch back on the couch with full protruding bellies. If you're not too tired, demand that your brother struggle with the ancient television set so that you and your father can watch a few more episodes of Seinfeld. Remind them that we're still on season five, in case they forget.

When your eyelids begin to sink, trudge up the stairs and crawl under the covers. And don't be surprised if you find yourself thinking of that rippling sheet of turquoise glass even as you sleep; it's impossible to be apart from it for too long.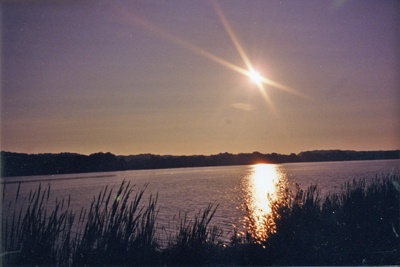 © Gabrielle C., Struthers, OH