Something Stolen
January 7, 2013
I love him. I'm utterly and completely in love with him. Everytime I see him, or hear his voice, or hear his name, my very soul shines. He makes me fly to the highest peak, to the brightest star. When I see hearts or couples or anything romantic I immediantly think of him. When I see something beautiful, I think, if only he was here, if only I could share this moment with him. Whenever I hear an amazing song or read wonderful poetry or see a golden sunrise I think of my love for him. And everyday, I thank to God I know him. But he loves her. He is madly devoted to her. When he sees her, or hears her voice, or hears her name, his soul shines. She makes him fly to the highest peak, to the brightest star. He thinks of her when he sees hearts or couples or romantic things. When he sees something spectacular and beautiful he pulls her closer, because she is by his side. Whenever he hears an amazing song or reads wonderful poetry or sees a golden sunrise he thanks God he has her. 

I feel cheated. Love is supposed to be something wonderous and beautiful, but it has ripped my heart out instead. It rips me apart a little everyday, until I find myself hopeless and weeping. But my tears and my emotion are pointless. I am invisible.

But I know I cannot stay this pathetic love sick being forever, as tempting as it is. Because he will not take me away in his arms, he will not save me from love's dark clutch. It is a fairytale, a dream that exists only in my head. I must save myself from my own heart, my reason and sense must overule blind emotion.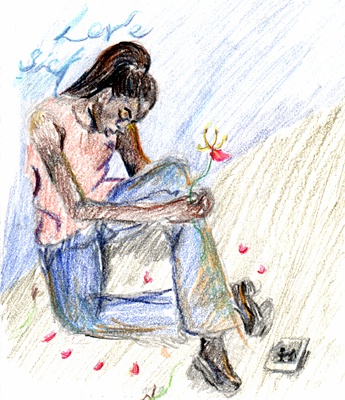 © Sherrell B., Philadelphia, PA