Two Accidents, Three Deaths, One Week
November 26, 2012
I live in a small town; it's a town where, at first glance, nothing seems to change. Generations and generations of families have made my town their home. I love my town. Its small town atmosphere and tight-knit community structure made it a great place for me to grow up. While traveling through my town, you are surrounded my smiling faces, who are always willing to lend a hand.
But during the week of November 4, 2012, those smiling faces could not be found. On the night of November 3rd, two beloved high school football players were killed in a head-on collision. I was attending a conference in Greensboro, North Carolina when I received the news. While I was not a close friend of either of the two boys, my brother and boyfriend knew them very well. Speed or alcohol was not involved in the crash and it was truly a terrible "accident".

Immediately, there was a response from the community as their hearts went out to the two families. Fundraisers began to be organized and "in memory of" projects were designed. I remember visiting the school on Monday-the first day the students were back since news of the accident; a solemn expression could be seen on every students' face and almost all of them had worn black to mourn the death of their fellow classmates. The breezeway was decorated with hearts, arranged to form R.I.P, which contained messages from friends and acquaintances, who hated to say goodbye. Donation jars could be found in most of the local businesses and people from surrounding counties reached out to help. I was given the opportunity to help with one of the fundraising events and I worked diligently to sell steak dinner tickets. I never had to go into detail about the situation because everybody already knew. The lady that I worked with would quickly state, "We're selling steak dinner tickets for the boys" and people would already know who you were talking about. I was amazed at how fast the news had spread and the willingness of larger counties to help our small town.

The first memorial service and funeral was held on Thursday, November 8, 2012. I was unable to attend this service because of work, but I would have loved to have been there. As I was driving past the school, I saw the parking lot filled to capacity, and cars were forced to be parked on the grass and across the street. It is amazing how one person can touch so many lives.

But the week wasn't over, and tragedy would strike, yet again, for my small town. I remember talking on the phone with my boyfriend and him quickly telling me to hold on and that he would be right back. About five minutes later, he returned to the phone and I could tell by the tone of his voice that something was wrong. "There's been another accident," he quickly told me. "A girl was pronounced dead on the scene and two other girls are being flown to the hospital." I waited for the girl's name to be released and, after what seemed like a lifetime, I found out that she was a girl that I went to school with. She had been an extremely close friend of my best friend, and I saw her often. She was always smiling and I can't think of a single person who didn't like her. I was grief-stricken when I found out that she had been traveling home from the boy's funeral. The irony of the situation was too much to bear and my mind went blank as I tried to figure out what to do next. My best friend had moved away and probably had no way of hearing the news, so I decided that the awful task of telling her that her friend was dead was my responsibility. I impatiently listened to the never-ending dialing tone of my cell phone, as my brain ruffled through the thousands of ways that I should break the news. There was no easy solution and any conversation I chose would be difficult. When she answered the phone, I told her the tragic news in the most sympathetic way that I could think of, but I knew that no amount of sympathy would be enough to ease the pain. I will always consider that task as the hardest thing I have ever had to do, and I hope I never have to do it again.

A candlelight service, which had originally been organized for the memory of two students and now served to remember three students, was held on Friday. There was a huge-turnout for this event as well. Remembrance speeches and poems were read to celebrate the three lives that were lost. Two songs were sung by two individual students; I was emotionally touched when one of the singers walked up to the podium and stated that she had laryngitis. To my amazement, she announced that she was still going to sing her chosen song. I would have never guessed that she had laryngitis, as she was able to hit every note perfectly. At the end of the memorial service, a red balloon was released for each of the students and the audience silently gazed up, as all three red balloons disappeared into the night sky.

The funeral for the remaining male student was held the next day, and I was honored to be able to attend. The gym was packed to capacity and people were forced to stand on the sidelines. I remember the pastor stating, "There isn't a church in this county that could hold all of these people." I silently listened as, one by one, principal's, coaches, and friends, paid tribute to this young man. He had touched so many lives in such a short time, as he was only sixteen years old. I remember one of the principals stating, "I was walking into the office when a high school student walked in and dropped a dollar into the bereavement fund. The student looked up at me, smiled, and explained that the deceased student had let him borrow a dollar last week and he had yet to pay him back." Other stories were told of the generosity of the 16-year old and how they would miss his beautiful smile.

The week that followed was a hard week for me as I awaited the girl's funeral, which I hoped would be the last funeral that I attended for a very long time. The attendance level was high once again, as people kept pouring into the small church. A PowerPoint, full of pictures, was shown at the beginning of the funeral service and formed a timeline of her life. She had a variety of friends and I never saw the same friend pictured twice. She had been a member of the Junior Leadership Program at the high school, and was therefore given a military salute. My boyfriend, who is Deputy Company Commander of the program, was selected as one of the military pall bearers; tears filled my eyes when the seven cadets saluted the hearse as it drove her coffin to the cemetery.

When the last car pulled out of the parking lot, I breathed a sigh of relief, as I had made it through the service. I knew that the time for mourning was over and it was time to start the process of recovery. While the three students will always be missed, we should be proud of the meaningful moments that we had with each of them. I know that they wouldn't have wanted anyone to cry; they would have wanted us to smile and remember all of the fun times that they blessed us with. While I didn't personally know the two boys, I wish I had. The kind words that were said about them made me wish that I was their friend as well. My town is slowly returning to normal, but memories of the three students are seen everywhere I go. Every day, as I drive to school and work, I pass by three crosses, covered with flowers, which mark the location of the two car accidents. They serve as a constant reminder of their tragic deaths, but most importantly, they represent the numerous lives they touched while they were alive.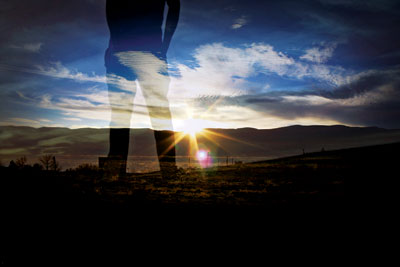 © Ezekiel R.