Losers
November 25, 2012
Click-Clack, Click-Clack, is the only sound I can hear in the steamy locker room. As players pace back and forth I can feel nervous energy surrounding me. I try my hardest to expel fear from my heart. My thoughts are interrupted by a quick order by coach to lineup at the door. I strap up and jog towards the banner. The crowd cheers and I glance up, all my friends, all the cute girls, an entire school there to support a team who has done nothing but disappoint. I resolve to not let them down.

I shake hands with the other team head hung low. My teammates and I say the Lord's Prayer and climb back on to the bus. I go home and ice my many bumps and bruises. The next morning I wake up and go to my favorite restaurant, within 20 minutes I'm asked about the score. I simply respond that it was bad and would rather not talk about it. Its then I receive the single most demeaning and depressing speech a person can hear. The "you played well and you tried your hardest" speech. I smile and thank them. Inside I feel the deepest of angers and frustrations. Like always I wonder why I still play,

Monday afternoon we fight for the good chairs and settle in to watch film. I watch as the opposing team scores touchdown after touchdown. But then my quarterback compliments my block. A smile creeps across my face. I rejoice in the loud OHHH sound the guys make after my tackle. As I strap up, and tighten my belt I feel happy. I am a man with a purpose. Although my course may lead me to losing and to disappointment I feel joy that I found something I am willing to suffer for.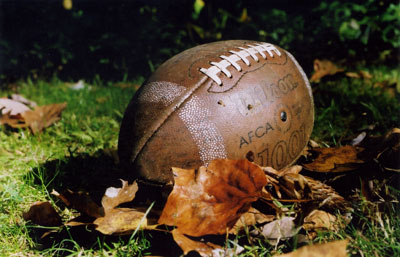 © Michael L., Bethesda, MD