My Best Friend
November 1, 2012
It`s a Sunday morning and my dad is gone once again. Just me and my best friend Rocky. Being alone together was nothing new to us. Actually it was almost an everyday thing. This didn`t bother us any it just made us closer. i look over at him and think we haven`t played tag in awhile.

Technically two days, but that`s a long time according to us. he must have known what i was thinking because he lifted his head off the floor the momet i looked at him.
"your it pig!" i shouted as i bolted into the den.
He jumps up as fast as he can and chases after me. We end up having a stare down. Rocky`s on one side of the pool table and i`m on the other.
"I can make a run for it and hide up stairs" I think to myself.
Got to be careful or he will get me for sure. Making a break for it i trick him and run the other direction, and race up stairs. He`s right behind me trying to grab my foot.
What a cheater!
"crap", i shouted!
I should have thought this plan out more. I`m trapped again and nowhere to go. I turn to him and the look on his face says
" Make your move!"
In the blink of an eye he charges at me and i have no choice but to let him. Dropping me to the floor he stands over me as i`m pinned down.
He has claimed his victory at last.
"Alright I`m it now get off me."
Pushing him off as i stand there and watch him bounce around like a rabbit. His victory danceends when i make a step towards him. Rocky runs down the stairs as fast as he can and hides in the pool room.
Walking slowly i can scan the room for him until i spot him.
"Really pig under the pool table! You couldn`t have made it more obvious."
He dosen`t move a muscle.
I quickly slide under the pool table making an attempt to grab him. He moves at the last minute of course. The stare down continues once more. Rocky charges at me and i jump out of the way as he runs past me.
"Again that`s cheating!"
If you don`t think a giant Rottweiler charging at you isn`t scary your crazy. Finally after chasing him around awhile i tackle him as he rolls on his back.
"I win again boy!" I tell him while scratching his belly
A moment later my dad walks in through the garage to me sitting on the floor scratching rocky`s stomach. The game ended sadly, but spending that time with him was worth.
"I win until next time." I whisper in his ear.
He turns and licks my face telling me..."Whatever you say sis,whatever you say."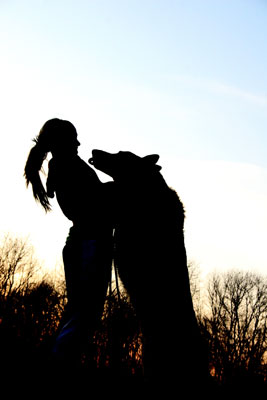 © Brittany U., Terra Alta, WV