Rebel: Sadie Without a Care
October 19, 2012
One day my sister Sadie went to her friend Rebecca's house for the weekend. She was gone Friday night, all of Saturday, and didn't get home until about 2 o'clock on Sunday. When I found out she was leaving for the weekend, the only thing I could think about was the fact that I got my room to myself for the whole weekend, and I didn't have to deal with her the whole time.
When Sadie arrived home on Sunday, we were all in complete shock! While she was at Rebecca's house, she had dyed her hair purple and black. You must realize that naturally, Sadie is a dishwater blonde, so imagine the shock that everyone was feeling. There was a part of me that liked her hair, but I was in so much awe that I couldn't say anything. I could only stare at her. My step dad, Buddy, happened to not be there at the time so it was my mom who finally broke the silence by "flipping out". She was yelling at the top of her lungs, "How could you do that to your hair! It was so beautiful before and now it looks horrible!" She absolutely hated what Sadie had done to her "beautiful hair", as my mom called it. My mom hates it when we even think about dying our hair weird colors. Purple and black are definitely weird colors, or at least in my mom's eyes they are. My mom was so upset that she didn't even think about Sadie's friend or her parents. My mom has long brown hair, so she loves it when we have long hair too, specifically me, because we look more like her.
An hour later, guess where we were? At the hair salon, getting Sadie's hair dyed back to her normal color. We happened to go to the same place that Sadie went to in the first place. So when we got there the lady said, "Oh, so you are back already?" The upset that my mother felt lasted at least a week. Of course, Sadie wouldn't let the subject drop about why she had to dye her hair back to blonde and why can't her hair be purple and black. Anyone could see that Sadie was under the assumption that she could do what she wanted and not have to worry about the repercussions of her actions. Let's be honest here, though, how many of us can really get away with doing whatever we want without asking a parent first? I mean, seriously, Sadie had to have known she would get in trouble for what she did. My mother answered all her questions with just one answer: "I was your age once, too, and I know what it means to rebel against your parents. When my parents used to tell me that I would understand when I got older, they weren't kidding. I completely understand now. Always remember, every action always has a reaction, positive or negative. Never go against the rules and never do anything like that without my permission. We talk first, and then decide together. Got it?" I thought that was a great answer, but I'm sure the rebel in Sadie will try to get out again.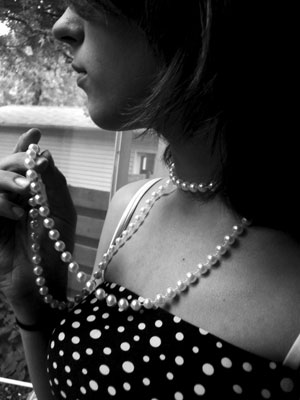 © Elaina V., Canton, OH