The Yellow Goop
October 19, 2012
The first time I had tofu scramble was at my grandparent's house. I walked out of

the room I was staying in and into the cream-colored hallway. On my way to the kitchen,

a strange smell filled my nose, it was a smell of lime, pepper, and yeast, it had a

smokey smell to it.


As I walked into the kitchen, I saw this strange yellow goop. I walked over to my

Mom, who was wearing her pink Thumper pajamas, and asked, "Do I really have

to eat that?"

"Yes, you should try a couple of bites and see if you like it, and if you don't it's fine."

"All right, I'll try it,"

After that, I went over to my sisters, who were in the living room lined with soft,

comfy couches. As I walked over to them, I heard Jessica say, "That looks so gross! I

really don't want to eat it, but I don't want to be rude."

Sarah said, "I know what you mean, it looks like something you would feed your dog."

I walked over and sat on the flower covered couch and curled up with its fluffy

matching pillow.

My grandma soon came over to us in her soft yellow pajamas and said, "This is

one of my favorite dishes, its sooooooo good. I know you're all just going to love it." My

sister and I all gave each other uncertain looks. She then said, "Come to the table, it's

time to eat!" My sisters and I wandered to the old brown table and sat in its matching

brown chairs. My grandma put this yellow slop in a very nice looking white bowl and

carried it to the table with it sloshing this way and that. She said, "It's time to eat," so we

bowed our heads and prayed.


When my grandpa got done praying, I grabbed a white, fluffy biscuit and put the

yellow slosh onto it. I took a look around, then took a bite. It was delicious, it was

lemony and amazing, I never had any thing like it before. I ate so much I felt as if my

stomach would explode!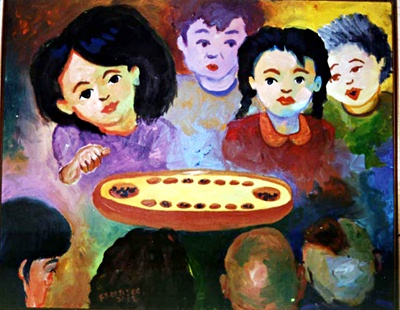 © Fransisca A., Surabaya, Indonesia