La Corazon
October 24, 2012
La Corazon, the heart. Taken lightly by animals, ''Nothing more than an organ for survival", they'd say if they could collect their incompetent thoughts. They do not see it as a fragile object balanced on a knife point, faced with falling over either end. Or a dam, fighting the ferocity of Amor tenaz. Why is la Corazon so highly regarded? Talked about so much, yet not treated with the delicateness it so desires. Is it nothing more than a tool for a dancer to put emotion on display? Or is it a torture instrument for a writer to convey their thoughts on a page...?

My first experience with la Corazon was a bittersweet one. It was a simpler time, where the most time consuming activity was recess. Back when boys had become a little less icky, but still had the same amount of immaturity. La misma tiempo that I found my first love. I had never experienced love before, not even "like" as most people would say. But this boy, he was different than the rest, not as tall nor as strong; but to me was the most beautiful.

He had russet-brown skin, forest green eyes, & lips as soft as grandma's cookies. He had the softest voice, with the slightest hint of some Hispanic accent that I did not know. But sadly, he hadn't noticed me. I was not the most passionate or exciting character in class. I was the quiet little nobody, afraid to speak her mind to the bully that would surely terrorize her. I was the nerd who knew all the answers, but wouldn't dare raise her hand at the expense of being ridiculed by her peers. Yet, there set this beautiful Hispanic boy, muchacho hispánico hermoso, who looked at me the "nobody" like I was somebody.

I couldn't contain this burning passion anymore, pasión ardiente, any longer. I tried to tell my mom, but she didn't understand, and decided to give me a lecture about the birds & the bees instead; which was one I could skip. I tried to tell her it wasn't the same that I wanted to profess to the world my love for this boy. I tried to tell my dad, sisters and brothers how much I loved him & I wanted to scream it to the rooftops. They looked at me as if I was crazy, a third grader with her first crush they thought. Little did they know, I wanted to run away with him, and get married on a hilltop.

*

It was halfway through the year, and my mom had already planned to move again. We were always the type of nomad family that never settled down. "Too much to see!" my mother would say, every time I asked why we had to move again, when I just started making friends. This time was different though! I hadn't told him how I felt about him; how I swooned whenever he spoke. Mi Corazón dio un vuelco, my heart skipped a beat, when he looked my way. I had to speak to him before I left.

"Hey Dominick!" I said.

"Hey Kobi, what's up!"

"There's something I have to tell you. I've seen you all year, and you're like the coolest guy ever. And you're really cute, and well I kind of like you…….." Oh my God, what if he doesn't like me!

"Really? Well you're really cool too do you want to hang out some time?"

Yes, yes, a thousand times YES!!!!! "Sure!"

I finally got to talk to the boy I love with all my heart, too bad I'm moving tomorrow.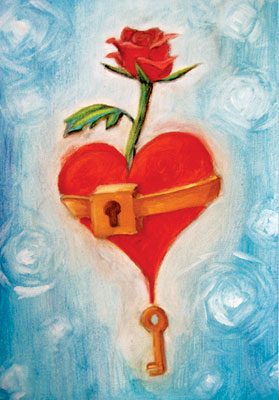 © Louisa L., Pleasanton, CA