Ethereal Mornings
October 11, 2012
The ray of light peaked through my curtains and woke me up. I immediately ducked my head under my pillows, seeking the warmth and security of my bed; it was 8 am on a Saturday morning. Through the layers of pillows and blankets came the muffled voices of my family. Unfortunately the smell of breakfast wafted in also. Well there went all attempts at reclaiming my sleep.

Stumbling out of bed I went downstairs and ambled towards the kitchen. Upon hearing my footsteps my Abu (father) looked up from the cutting board and with a teasing smile said "Well, well, well the Rajkumari finally decided to grace us with her presence." At this I merely grunted and sat down at the kitchen table. Rajkumari, meaning princess in Bangla, was used along with Maharani (high queen) to tease me about my odd hours. My weird sleeping habits were somewhat notorious among my family members.

Absentmindedly flipping through the newest Macys catalog, I observed the scene in front of me. My parents conversation faded into the background as the smell of south Asian spices teased my nose. My dad prepared Aloo bhaji, a spicy Bengali dish consisting of peppers and potatoes. His nimble hands deftly cut the potatoes into thin rectangular slices; the knife came down with a rhythmic thud. Next to him my Amu (mother) molded dough into thin circles to make roti.

Laughter floated in through the large window-like opening in the low wall that separated the kitchen and family room. From my vantage point I could see the bobbling head of my younger brother, Jawad. SpongeBob had done it again, my brother was laughing so hard that his whole body was shaking.

Without looking up from the cutting board my dad ordered me to wash our "special" plates. Not saying anything I did as he asked. It was really rare to find my entire family in good spirits. Usually one of us is cranky or acting antisocial (admittedly it's usually me). My father slides the minced potatoes onions and tomatoes into a pan, the oil makes it sizzle and my brother looks up in interest. The only thing that could have torn my brother away from TV is food.

In my bossiest older sister voice I told Jawad to take the plates and cups to the Kitchen table. The table in question was of course littered with various magazines, my books, and my mother's cook books. Though we all had perfectly good desks upstairs in our respective rooms my mother insisted that my brother and I work in the kitchen so that we could all spend as much time together as possible. Because in her words by the time my brother and I go to college "we'll leave her and never want to return home ever again". I don't mind really since it's nicer in the Kitchen, but it's hard to drag all my textbooks back and forth.

Once all the books from the table are moved somewhere else and the plates are set, I go to our huge stainless steel refrigerator and grab the Ruby Red juice. My mother brings the roti and evenly distributes it between the four of us. Without bothering with presentation my dad puts the frying pan directly on the table and we all dig in.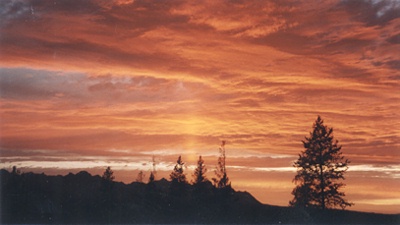 © Katy B., Challis, ID