This I Believe
October 10, 2012
Walking into Religion class, I knew it was going to be fun and there was going to be a lot of laughing. Telling stories, cracking jokes, and laughing until our eyes start to water is all we do in that class some days. I believe that every person in this world should be able to have experiences like this every day of their lives. I believe that laughter is a key component for a healthy life.

Laughter is the knee-slapping, eye-watering sensation that comes after a joke, funny face, or just because. It's that giggle or chuckle that you hear sometimes from others. People should laugh at least once a day and I know that I try to. Laughter can be from pleasure, but it can also come from nervousness. I know that I try to laugh pleasurably whenever I get the chance.

Religion class is the period where I know that I will get a good laugh in. Strolling into the room and just seeing my teacher gives me a little bit of a laugh. It's not because he's funny-looking but just because he's a funny man. He's just sitting there behind his desk looking at the door as we all walk in. Everyone in the room is standing and talking when we hear someone say "Okay guys. It's time for prayer." That's when the whole adventure begins.

I remember this one class when none of us wanted to do any work, so we asked if we could talk about weird dreams that we've had while we were sleeping. That did the trick and we talked about it for a whole period. Some of the stories, like mine, were just plain strange and got everyone in the room laughing. Other stories were not so funny and somewhat serious, but the reaction on my teacher's face made us laugh. That day I think I laughed more than any other person in that room. I don't know why I found all those stories funny but I did.

Another day I personally was in a very hyper mood. I could not sit still for that whole period. Thankfully we ended about 10 minutes early and we started talking about random things again. I don't know why, but I had a sudden impulse to go and spin around in his chair. I asked and after a minute or 2 he finally let me go spin in it. I was laughing the whole way up to his desk. I sat down, still laughing, and slowly start to spin around and around and around gaining speed with every spin. I was laughing so hard that I almost started to cry. Suddenly, BANG! I had hit another chair with my leg and my class started to laugh at me. I was fine with that because it was enjoy able and I had a very good time.

Laughing can help someone to brighten their day and get out of that weird mood that they were in. I love to make people laugh. I feel as though it's my job to put a smile on someone's face. As the bell rings at the end of the period that I have Religion I need to whip the tears from my eyes and look forward to another day in that class.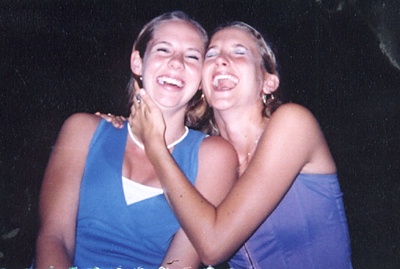 © Elena F., Platte City, MO