Father?
October 4, 2012
Growing up, Father's Day was the worst holiday for me. I usually spent that day in my bed, with a box of tissues crying. When I was 6 weeks old, my father walked out on my mother and me. He forgot about us, and it didn't even phase him. The reason he did this was because my dad is a recovering alcoholic. My father was addicted to alcohol and drugs when I was born. They meant more to him, than I did. I hated him for what he did to me. Through all of this, I was still determined to one day, spend time with him and get to know my father.
The opportunity finally came this past summer. My father was coming from Key West to New York to see me. It was perfect, especially with him being sober for over a year. At first I was nervous and mad. But then, after many talks with different people, a part of me was somewhat excited to see him.
June 22, the day I was watched by the first man I have ever loved. Even though he has been absent from my life, this was the first event that my father has ever watched. The game felt like it went on for hours. I walked off the field when the game ended. My heart was racing. I had butterflies in my stomach. I walked off and immediately I laid eyes on him. The man that walked out on me 15 years ago. A whole bunch of emotions came about. A part of me wanted to cry, but the other part of me wanted to stay strong, and make him realize what he had missed out on the past 15 years. I have turned into a wonderful young lady. Of course, with no help from him.
We hit it off so well, that when he left New York, I didn't want it to end. I knew if it did, I would never actually get to know him. So I made the decision to fly to Key West for the summer. This was the hardest decision of my life. But it had to be done. And it was better sooner than later.
A week went by. Then the next thing I knew, I had been there a month, and it was time to come home. But still, I felt as though I had not expressed my feelings enough for my dad. So the day I left, I wrote a letter, and left it in my dad's car. It read…
"First off I want to start by saying I am absolutely beyond proud of you. You're doing amazing, and I couldn't ever imagine seeing you this happy. You've turned your life around. Growing up, I never understood why I didn't have a dad. Mom always repeated to me that you didn't leave me, you left her. Which, I felt very hard to believe. I never knew why I had to grow up without a dad to come to my soccer games, or even attend ONE of my birthdays. Growing up and just talking to you on the phone was hard. I always wanted to ask you, why? Why did you do that to me? What did I do wrong? I wanted to know why you could be around your stepchildren, but not me. I wanted to know why you could be a great father to everyone else but me. You're trying to be the best father you can, living over a thousand miles away. Nothing can make up for the past 15 years, but I want to look into the future and get to know you. I want to know MY dad. I want you to be there when I walk the stage, and I want you to walk me down the aisle. All these people tried to make up for me not having a father. And I thank them because they gave me the courage to realize that, no matter how hard anyone else tries, no one can compare to MY dad. But anyway I love you to the moon and back dad."
2 months later, I talk to my dad once every 2 weeks, and even though it is just a occasional "Hi, how are things?" it still means a lot to me. It may not be what I was hoping or expecting, but at least we speak. At least at the end of the day, I can say I tried my hardest to fix things. Sometimes you can't be the only one trying. I'm going to give up for awhile, and just wait for him to come around, and tell me he misses me.
So if you have your parents at home, do me a favor. Go give them a big hug, and thank them for never walking out on you. It's the worst feeling in the world knowing that someone, especially a parent could just move on and forget all about you for many years. And if you have a parent who is not in your life, try things out, try to contact them, or even write them a letter like I did. You never know what could happen. I know I'm sure glad I tried.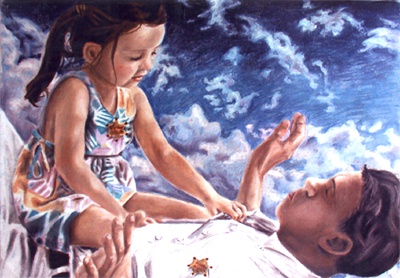 © Meg S., Andover, MA