The Power of Crayons
October 4, 2012
"The Power of Crayons"

Today is my first day of school. I woke up ready to play with Legos, but right before I had the chance to even touch the Legos my mother grabbed my arm and started to walk me to my room. I did not know what was happening, but I followed her silently. When we finally got to my room she pulled out a blue shirt and a pair of long black pants. My mother took off my clothes, put on the uniform, and hooked two yellow suspenders onto the front and back of my pants. Then she walked to a mirror hanging on the wall. I just stared at my reflection while I playing with my suspenders. Then we both walked to the car and my mother drove me to the school I was going to attend. When we arrived, we both stepped out of the car and she held my hand as we were walking to this building with a gigantic playground in front of it. In my head all I thought about was how amazing the playground looked and how much fun I could have in that playground! Then we reached a large green door and my mother knocked.


I did not have the slightest clue of what was going on, but all I did was tighten my grip on my mother's hand so she then picked me up as I sat on her forearm with my arm wrapped loosely around her neck. Then a woman with blond hair came out and gave an enthusiastic greeting that not only scared me but also made me extremely nervous. My mother said a few words and was already trying to hand me over to this creepy lady! At this point I was going insane. I was kicking and screaming at this lady, and at the same time I had a death grip on my mother's hair. Then my mother finally pried my hands off and I was screaming for dear life. The creepy lady then carried me to my seat and gave me a fairly large teddy bear. Then all of a sudden I stopped crying, hugged the teddy bear, and realized I was sitting in a room full of other kids around my size and age.


The creepy lady handed each of us a piece of paper with a picture of a blank elephant and requested that we color in the lines. She then gave me crayons and I started coloring the elephant like I was having a sword fight. The elephant was my enemy and the crayons, my sword. Then I saw a girl's hand coming close to my box of crayons and I quickly grabbed my crayons and moved them so that she could not reach for them. I inspected her from head to toe and she just stared at me with innocent eyes and asked if she could borrow those crayons. I just silently shook my head as I gave her a face of disgust. As soon as I looked away I saw her arm shoot to the sky and yell for the teacher. I watched as the creepy lady walked over and the girl explained that I would not let her borrow my crayons so the creepy lady knelt down beside my desk and asked if I was willing to let Kirara borrow my crayons. I was filled with fear and anxiety, but somehow I worked up the courage to shake my head once more. She then grabbed my arm and walked me to an isolated seat in the back of the room and told me to think about how I can be more kind and caring to my classmates. She even took my teddy bear! I was filled with so much anger and frustration that I started to cry again.


The teacher walked over and asked me if I was going to share my crayons with Kirara. I nodded my head without any hesitation. So I headed back to my desk and I watched her as she was coloring with my crayons. I then asked if I could borrow some. She first smiled then nodded and so I smiled. We were trading crayons back and forth while having a conversation about our favorite animals. When my first day of school ended, I went home and realized that Kirara stole my crayons.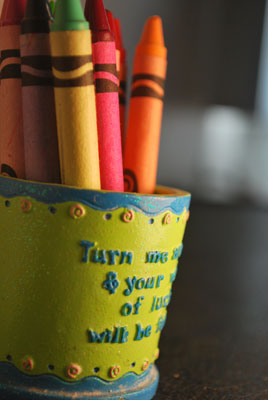 © Emily R.