Thrifting
October 15, 2012
Have you ever looked at someone and admired their originality? Did it ever occur to you that such a fabulous outfit might've come from a thrift store? Thrift stores might be seen by some people as a place where everyone throws clothes that they no longer want. The truth is that they are a place where you can create your own individual style for a lower price. Shopping at a thrift store is unusual which isn't a bad thing.

There are more and more people who are going to thrift stores to get their clothes. Even people who can afford to buy things at high end stores, they choose to go to thrift stores. Why shouldn't they? What's the point in buying a pair of thirty dollar shoes when you can go to a thrift store and buy a pair of shoes and get an outfit to go with it for the same price. Why go buy a pair of new spectator shoes when you can get your own original pair that's actually from the 50's?

Sometimes shopping at a thrift store is a little overwhelming: they can be hot, crowded and frustrating. There are moments that you just want to quit. These moments can come after trying to squeeze your foot into a pair of someone's old heels or not being able to zip up that adorable red dress. At moments like this it's important to remember that you shouldn't give up. So set down the clothes and look through the trinkets or other knickknacks and calm yourself down.

Now i'm going to give you some tips on what to do for your thrifting experience. Never be afraid to search your hardest through the store. It's just clothing, so dig deep through it all and try to find that perfect piece. If you're not all that good with digging through racks and racks of clothing then maybe thrift stores aren't for you. You still shouldn't let the slightly dirty side of a thrift store discourage you!

You can't go to a thrift store with something in mind. You'll spend all your time looking for that pair of ripped jeans and then you'll miss all the good things. The store might have that perfect top to go with that amazing pair of shoes but it could pass right by you because you're too busy trying to find something that might not even be there.

Be shameless when you're shopping. If you're with friends and you pick something up that they hate then try it on before you listen to them. I can't tell you how often I regret putting something down at a thrift store after my friends told me too. If you want what you picked up and think it looks good at you then rock it no matter what they say.

The thrift store I go to has a total of two changing rooms, one for each floor. It's inevitable that you have to throw something on over your clothes to try it on. Something like a simple tank top and jeans can be a lifesaver when the changing rooms are full and you need to try something on. Don't stand there awkwardly with a dress in one hand waiting for people to get done in the changing room.

Lastly, when you're shopping have a good time. Hanging around a stuffy room for two or more hours isn't my definition of fun but having friends there can change that. Plus a little help from friends in the big, bad thrift store might be helpful for a first time. You'll have a better time and people to offer opinions on those pumps.

Overall, a thrift store is a place that you should visit and experience. Especially If you've got a sense of adventure and if you're okay with wearing something that was owned by someone before you then you need to go thrifting. Plus, you get the satisfaction of telling people that you have an amazing outfit on that cost a total of three dollars. You don't need designer when you've got vintage at a cheaper price.

You'll never know what you might find at these fabulous stores so go and give them a try. Go discover a set of 50's cheerleading outfits for spirit week or maybe even a fabulous dress for homecoming. Thrift stores have something for everyone and you won't know that until you visit one. They're a treasure trove of clothing, shoes and trinkets that never truly get the credit that they deserve. It's not just a place where you throw old, beat up clothes. It's something worthy of your time, it's the place that daring and stylish people should love. It's a thrift store and you just have to go. So grab your bag, wallet, coffee and prepare to thrift.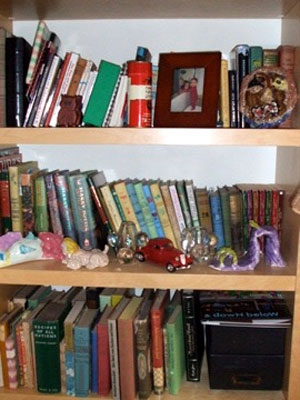 © Nina M., San Francisco, CA