The Dusty Heart
September 26, 2012
My stomach was rumbling, the sky was pitch black, and the clock struck eight o'clock. Hershey, my Chesapeake Bay retriever, brown curly haired dog, was pacing in front of me. Every day, I walked down this block, Gale and Washington to stare at his modern day, blue and white colored house, on the corner of the street, hoping to see him.

Every time I see him my palms start to sweat, my heart paces as fast as a car on the highway, and my legs start to tilt back and forth.

I have gotten my dog used to going straight down our street to his house. It has become a tradition. I guess I was becoming infatuated with him, but I couldn't help it. I am a 21st century teenaged girl, the girl that sits on Facebook, texts their friends, and talks about boys constantly. But at the point of this hot, summer day, he had become my everything, he was all I could talk and think about.

We talked daily, but I knew we weren't always feeling the same.

After my singing class, he would always talk to a girl that I averted from because of her bullying to me constantly every day during class. She would put her chair as far away from me as she could, she would try to stick gum in my hair, and I dealt with all of it. I never stood up for myself.

He knew she was mean to me and he knew that I was aware of their friendship, so I never brought her up, but when I saw them talking, my heart would drop to the ground.

Hershey and I were getting closer to his house. I could see the front-house light on. It was the first Saturday of the summer, so everyone was out till late having bonfires and going to the movies, but I was walking my dog, alone.

We reached our destination, and all of a sudden I see him sitting on his porch. My head started to ache, my palms sweat, and I started to lose balance, but there was a girl next to him. I could barely recognize her, so I casually got closer.

Well, it was her. The brown, curly-haired, medium sized girl, laughing and talking to him. I could feel the emotional pain in my body. It was so excruciating that it became physical, like no oxygen in the lungs.

I grabbed Hershey's leash, and took a sharp turn heading back to the house. I headed straight to my large room, full of books and clothes piled on the ground. I lay on my tempur-pedic bead and tried to puzzle together what had just happened.

My thoughts came to, "Are we really friends?" "Do you really care about me?", "Why would you do this? You know she doesn't like me!".

Because of this, my friends gave me empathy for weeks, and I noticed that I should not forget about him, but learn that I'll be heartbroken many times in my life, and each time my heart will become stronger and stronger.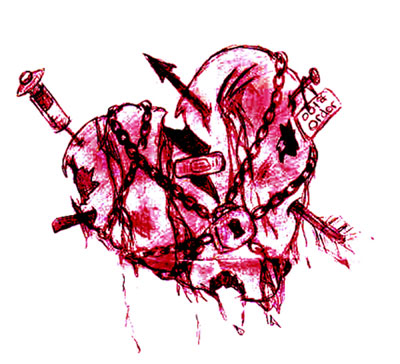 © Asia B., Hudson, MA