I confessed to him online
October 5, 2012
It wasn't like I had any special feeling towards him. I just had to know what was on his mind when he would stare at me, sharpen my pencil for me, talk to me like I wasn't invisible or awkward. I really just wanted to know, and feel what it's like to confess.

"By any chance, did you like me?"

DAY 1
Oh my gosh, I did something horrible. I'm so nervous, I don't think I can sleep tonight. Why did I do that? Why? Was I insane? Shoot! I can't delete this! This is dangerous, but at least it'll make a good story right? Why didn't you stop me? What did I just do?

DAY 2
He hasn't answered. I shouldn't have sent that message. I wish I could just delete it. I wish he would completely ignore that mail and just trash it... He didn't have feelings for me did he?

DAY 3
Nothing. well, at least it's out there. He chose not to read it didn't he. I don't care, I don't!
I should just forget everything about this, forget that I ever sent this. Good thing we moved, yeah, at least I'm three hours away from him. It would've been so awkward meeting him in the hallways, not to mention embarrassing.

DAY 12
He replied, "no."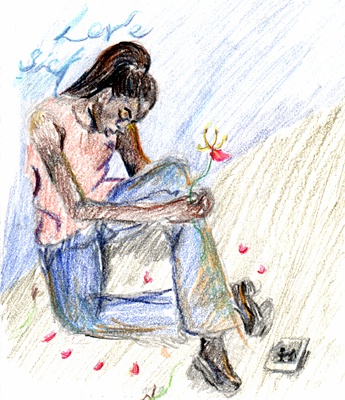 © Sherell B., Philadelphia, PA