I Believe in Taking the Good from the Bad
October 4, 2012
I Believe in Taking the Good from the Bad

If you take the good from the bad, what are you left with when it's all over? I believe your left with wisdom, happiness and a new start. Growing up my mom constantly reminded my siblings and I that "Family is all you have in this world." Well what happens when your family turns on you? What do you have then? I believe all you really have is your mistakes, memories, life lessons, and experiences you've gone through, whether they're positive or negative. Why not take all the good out of life that you possibly can? I've learned forgiveness is the key to self happiness. Because if you don't forgive the things people have done all you have left is anger.

When I was fifteen I left my mom to go live with my father. Being a young teen I thought my life would be so much better. I was wrong. Slowly but surely the same fights that happened at my mom's began to occur at my dad's. I began to think I was alone in the world, left to suffer with the life I was given. My mother didn't want me and neither did my father. No one ever stood up for me; no one protected me from my brothers or the people who tried hurting me. I grew angry with my father for never being around to defend me and for never taking my side when he knew I was right. I was livid with my mom for saying things to me when she was irritated, that no parent should say to their children. I couldn't figure out how to change my surroundings, how to forgive: I couldn't figure out how to take the good from my bad situations.

Eventually I left my father's house because I couldn't handle the pointless arguments. I left after my brother snatched me by my throat and slammed me against a wall. I was full of vengeance; I hated my father, my step mother and my brother. I began to notice my pain and anger had gotten worse I couldn't control how I felt anymore or my actions. I resented who I had become; it was like I had turned into an irate, unforgiving monster. I refused to talk to my family at my dad's for over a year, I convinced myself that I was never going to forgive them or utter a single word to them again. No one could tell me otherwise, they no longer existed in my world, so I thought.

A while had passed and I did some soul searching. I started asking myself why I was so angry, so vengeful. Recalling all the negative events that I'd encountered, it became evident that it was my father's absence and neglect, my step mother's over controlling ways and my older brother's abuse. Before I would never have thought of going back and re-thinking about all the negative occurrences in my life. It was at this time I realized running away from my problems would get me nowhere in life. Also that I would just end up hurting myself when it came down to it.

After my epiphany, I discovered next to forgetting my family the better decision would be to forgive them. To decide this it took a lot from me. It was the best feeling in the world to get rid of my anger and to just move forward with my life. I learned a lot those two years of my life. I learned to believe that as long as you take the good from the bad life will go on. In the end you ultimately become wiser and a happier person. So believe that as long as you can find the good in the bad then you'll be ok.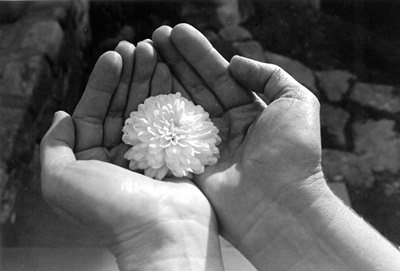 © Beth S., Marblehead, MA