The Car Accident
October 4, 2012
There she was driving home from work at about 10:00 PM and she was texting while she was driving. When she looked up, she saw the green light turn yellow, then red. Then, as she skidded to a stop, BANG! Another car skidded right into hers. Her car went slid to the side. Not knowing what had just happened. From this experience with my sister (unnamed), I learned to never text while driving. It could lead to a lot of pain and terror.

Her heart was racing, thoughts going throughout her mind. Listening to the other cars skidding to a stop in the background. Then, while getting out of the car she sees that her car wasn't drivable, and was totally wrecked. When she looked, around still not knowing what had happened, she starts to hear sirens coming from every direction. Now she felt pain, no broken bones, but bruises everywhere.

She called her mom crying with terror. Barely able to speak, and tells her mom every thing that just happened. And tells her everything, where she was, how she got there, and why she was there. And needs her to come pick her up. Now by that point her mom was furious with her, but at the same time she was worried about her. And as they were driving home, they talked about what happened that night, and if she learned that texting while driving is very dangerous.

She was very scared and very nervous to see the look on her moms' face when she arrives to pick her up from the Emergency Room. When her mom comes to pick her up, she thought that she was going to be in a world of trouble. But, when she saw the look on her mom's face she immediately calmed down and wasn't nervous anymore. But, they did talk while they were on their way home.

As they walked through the door, her family comforted her. Then, she thought to herself, how lucky she was to have a great big happy family that worries for her. My sister still texts while she drives but limits her texting to a minimal. I think that she should not be texting at all while she drives. From this accident experience, I learned to never text while I drive. And after all she wouldn't want to get into another car accident. It could lead to a lot of pain and possibly a lot of terror too.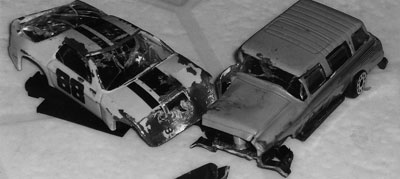 © Danny H., Chula Vista, CA