When I Was a Kid
September 26, 2012
When I was a kid, I'd run around the house naked without a care in the world who was watching. When I was a kid, I'd eat food off the ground and didn't shower for weeks. When I was a kid, I'd wear the same outfit for five days straight; play in it, eat in it, and sleep in it.

In my world school was irrelevant, just a dark building and thought in the back of my mind. Instead, time was spent exploring the dark caves in my bedroom closet, jumping from bed to bed in order to avoid a floor that became a pit of lava, and finding lost treasure in the boxes stacked up outside by the trash in the back alley.

In my world, I could see things that others couldn't. It was a treacherous place where horses were flesh-eating unicorns, humans turned into soul-sucking zombies, and sunflowers could swallow a man whole. A world beyond iPhones, computers, and flat-screen TVs, but ruled by the sun and stars. Buildings became mountains, parks became jungles, and children ran wild through the streets. It was a world clouded in mystery and adventure; where every decision you made could be your last, and it was all mine.

In my world, I was a pirate, a lion, and a king all in one day, making my poor friends walk the plank and plunge into the depths of the black sea, and roaring from Pride Rock which was really the arm of my couch. I was a king ruling with an iron fist and sentencing people to death, or a knight leading my men into battle to protect a fortress of pillows.

It was a place where I could run wild with my cousins, like a pack of wolves through neighborhood streets, wherever we were carried by feet. Yelling and howling under the summer sun, jumping off rooftops, over fences, and climbing trees. The scars I received from our many adventures were something to be proud of. I would parade around; show them off like a warrior did his battle scars as proof that I was one of the boys. We would stay outside until the sun went down and pass out laughing beneath the stars.

Those days were filled with nothing but endless fun and adventure until the unthinkable happened…I grew up. The world of computers and flat-screen TVs stole me away from my home in the outdoors. A school building keeps me from running free through neighborhood streets. Homework and essays take me away from the other worlds that lie in my basement, unexplored. A part time job took away my long summers of wild winds and nights spent under the stars. Portals remain unopened, demons un-slain, battles unwon, and lost treasure unfound. But I know that the doors to that world will always remain open to me, whenever I decide to go back again.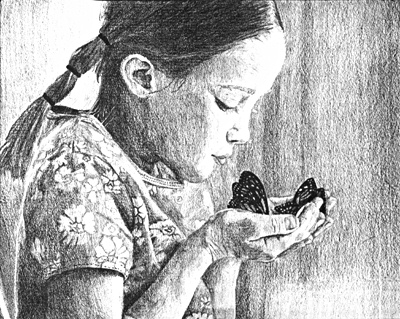 © Alina L., Holland Patent, NY