The Christmas Tree
September 25, 2012
Tightly squished like a pack of sardines my family and I sit around the fireplace and regard the green mass that takes up the majority of the living room. The glistening lights that engulf the house twinkle through the open bay window, reflecting off the cold, flawless powder that covers the ground. Bing Crosby chimes in his with his monotone voice singing, "I'm Dreaming of a White Christmas", setting the mood. His voice is a familiar sound that Christmas time is near.

Bundled in our scratchy layers of insulation we sit by the fiery flames and watch the wood logs crinkle and pop. The aromas of pine needles and tree sap fill the small, square house with hints of gingerbread and warm apple cider. Mounted in the corner of the living room, the tree sits upon its base as a diplomat for the coming celebration, adorned with bright lights and sentiments of years past. It reminds me of a mountain, broad and bulky. The color a flourishing green, with multicolored orbs of light filling every gap and clearing. As I gaze upon the sparkling beauty in all of its decoration, I'm brought back to my younger years of handcrafted ornaments and spirit-filled letters to Santa Claus. Each ornament hangs on its very own branch, and also has its very own significant story to tell. One made of miniature marshmallows with green and red sequins stands out among all on the very center branch, for it is my father's favorite. The candy canes with their delicious red and white swirls hug the Douglas Fir as if hanging on for survival. At the very top is a glowing mistress who looks over the sacred tree. Although she appears very small, she is perched like a bird many feet above the ground, as if standing on a castle fabricated of joy and sentimental pieces. Her gold-trimmed wings give me a familiar warm rush of Christmas spirit that fills my body like a cup of fresh cocoa. No one failed to perceive the perfection of the tall, deep green masterpiece, with every limb, needle and ornament in precise position. At the base of the masterpiece there is one more important piece to our creation which recieves the least attention. Royal blue in color, surrounding the trunk is a hand-woven skirt crafted by my great-grandmother.

Tomorrow morning brings the tree's most important duty. It will house mysterious and colorful boxes filled with wondrous surprises from the wonderful and jolly St. Nicholas. And as we run down the stairs in the morning we will admire the beauty of it for its last time, as it sparkles with happiness for being our Christmas tree.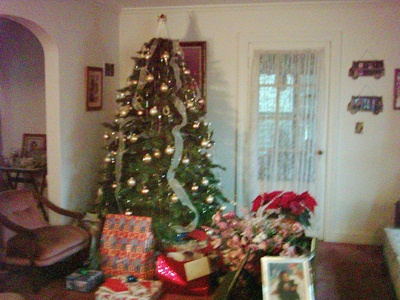 © Alexandria W., Hamden, CT