Trying New Sports - You Don't Know What Can Happen
September 24, 2012
5 foot 5.5 inches running down the court with his teammates on the court he passed the ball to one of his teammate he shot and he scored.

I had never played basketball until 2008.The first time I ever played basketball it was in 2008 at my elementary school Ponderosa we played another school we won by a lot. The next year in middle school I meet JT John tuner he used to work there as security guard. He asked me for my name I told him he said to me I have basketball tryout tonight you should come. I went to the tryout after few weeks I made the team. I went to tryout because I wanted to learn how to play basketball. J.T told me when I was doing something wrong or right that is one of the reasons why I liked him. As a team we improved in our own life and on the basketball court. Now I can say that I am a better basketball player than I was 5years ago. If it wasn't for my teammates and coach J.T I wouldn't be the team player that I 'm today. I wouldn't be emotion, fun and entreating as I am today.

Basketball matters to me because it changed my life in a lot of different ways. I went from a non-team player to a team player. In one of my games one of the players from the other team was talking BS to my teammate so I went in-between them and talked BS back to him. Being part of a team taught me that giving up am not an option. A long time ago we were playing down by 1o in the 4th quarter my coach told us "it's not over yet". We fought our way back in the game and won.

Basketball makes me feel emotions. In one of our game I foul this kid right arm he couldn't move it after that. In one of our games I said to his kid "you ain't nothing" but after the game I felt bad for saying that. Basketball is fun and entertaining. A long time ago at my basketball game there were 70 or more people watching us play it was fun. I felt like I was in the N.B.A. Playing basketball I meet a lot of people before and after the game. Sometimes after the game a player from the other team comes up to me and makes friends with me also someone from the audience that liked how I played make friends with me.

Overall basketball is a team sport because I learn how to be a better team player. Basketball has a lot of emotions because sometimes I say and do things that I regret after the game. Basketball is also entertaining because people wants to have fun and be entertained If you want to play basketball you should first start watching it, buy a ball go outside and play and just have fun. You will improve as time go by I promise.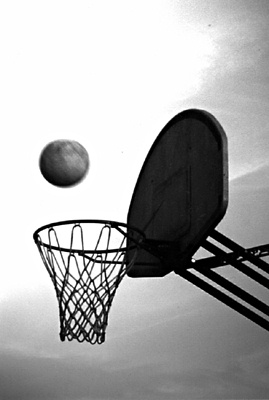 © Cassie H., Carmi, IL