Sadies: Yes or Absolutely?
September 21, 2012
During my freshman year, the only dance I've ever been to was the Sadies Hawkins dance. Homecoming and the fifth quarter dance didn't really appeal to me and plus no one asked me. During the times of the dances, my computer and my bed were my dates. Suddenly, my heart and my brain both jumped at the same time when I thought, "Should I ask him to Sadies?" All you need to know about "him" is that he's my best friend and that will never change.

The next day at school, all I thought about was how I would ask him to the dance. I've liked him from sixth grade to even now; we don't have the same kind of friends, so we never really talked to each other. Every time I thought of a way to ask him, there had to be something wrong. For example, I was planning on writing the letters that spell out Sadies on my piano keys, so that when I played them he'd figure out what it said. Out of nowhere, I think that my piano will be out of tune, or he can't see the letters when I'm playing them to spell out Sadies. So, it was really hard for me to ask him, especially when he had band practice and homework.

I didn't tell anyone that I liked him, but my friend found out. She asked me if I was going to ask anyone to Sadies and then she nodded her head toward my crush. My facial expression told her everything, my feelings for him, how he makes me feel, and just everything. She kept on pushing me to ask him, but I was too scared. Then one day, she literally PUSHED me into him. At that time, we started to hang out more, talk more, and eventually started calling each other. Everyone might call it, "friends with benefits," but I call it, "A once in a lifetime chance."

We planned on going out to eat dinner together one night, but it was a two hour wait. I called my grandma and she said we could come to Marina Del Rey and eat, so she picked us up. I had actually planned the whole thing, the restaurant being packed, and my grandma picking us up. My grandma dropped us off at the Cheesecake Factory there; my sister's friend Patrick works there. We got a table right in the middle of the restaurant, the people sitting around us were my friends and they were all snickering and getting really excited. He didn't know them of course, but he looked pretty nervous. Patrick came out with his favorite cheesecake and written on it said, "Count to ten out loud." He did, and music started playing, my friends around us got up and danced. When the song ended, they froze for a couple seconds. He looked even more nervous.

I stood up from my seat, the lights were turned off, and when they flashed back on I was wearing a dress with canes all over it. His face looked as if he was about to burst out laughing. "Will you be the sugar to my cane and do me the honor of going to Sadies with me," I asked, "Because I've liked you since sixth grade and I really want to be more than just friends." I could feel my heart beating all over my body as he stood up and walked towards me. He hugged me and picked me up and swung me around, "No, I won't be your sugar, but I'll be your boyfriend. I've liked you since sixth grade too."

We went to Sadies, but left early and went to Denny's to have a really late breakfast. I felt very proud of myself for finally telling him that I like him and asking him to Sadies. It was the best thing that I had ever done. We weren't together for very long though. I know I still really like him, but he's moved, but things happen for a reason. I'm proud of myself. I accomplished and experienced love and heartbreak.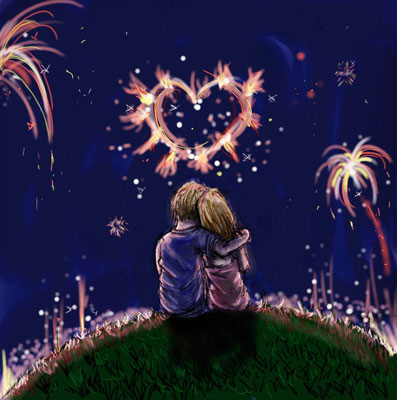 © Carissa G., Aberdeen, WA