Daddy's Little Girl
September 18, 2012
I love my Daddy.
He's a dream Daddy. He does Terminator impressions, Kung Fu Panda poses, and dances to 80's music. He glowers at my boyfriends, worries about me walking to school, and sneaks me junk food when I'm sad. He brags about my accomplishments, hangs every award I've ever gotten, and never loses faith in me.
He is my role model.
When he walks into the house, I jump out of my room, leaving chat rooms mid-sentence, and hug him, my arms stretching around his Buddha belly, breathing in his sweet, smoky smell. He laughs his deep throaty laugh, and hugs me extra tight waiting until my troubles fade away. And when I reluctantly let go and I look up, I see the pride shining in his eyes.
I'm Daddy's Little Girl.
It's been 6 years. He's 6900 miles away, but I'm still his Little Girl. He video chats twice a day, in his office, at home, at restaurants. The blurry screen always fills with his crinkly eyed smile when he sees me, on the other side of the planet, waiting for him. He sits alone in his room for hours in front of his laptop for me to return from school, knowing I will come back, smiling. He plans trips to America that we both know will never happen, he promises presents we both know will never reach me, he sends air hugs that we both know I can't feel.
But I'm still Daddy's Little Girl.
And every day when I lie shivering in my cold bed sheets, I remember the way he tucked me in and kissed me good night, told me outrageous stories, and promised me better tomorrows. I remember how he taught me to pray, and when he left me, how he stood in front of his gateway for 30 minutes, surrounded by his luggage and a sea of busy people, watching me leave anxiously, and calling every 5 minutes to make sure I got home safely.
Now, every day on video chat, I tell him my life is great, I tell him when I ace my tests, when I win competitions, and make new friends.
But he doesn't know when I fall down on my way to school, when I get rejected, or when I cry alone at night, hugging myself, holding my heart together with the image of his smile, and the sound of his laugh.
But that's okay. I'm Daddy's Little Girl.
I'll wait until the day he comes back, so I can hug his Buddha belly, laugh for hours at his stories, and tell him how much I love him. Even if I'm 20, busy at college, 30, working at my job or 40, settling down with my own family.
Because I am always Daddy's Little Girl.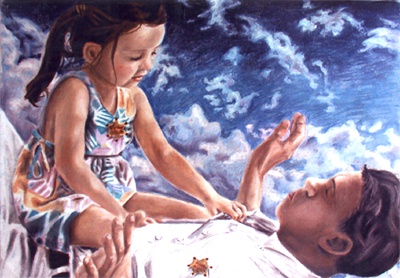 © Meg S., Andover, MA