REMEMBERING 9/11
September 16, 2012
Just five days passing of the 11-year anniversary of 9/11. This is my story of the day that was the scariest day in U.S. History. September 11, 2001 is a day that will live in infamy.
Here is the story.

It was like any other day in my 4th grade classroom. I came into my classroom, ready to learn when the clock strikes 8:00am. It was a sunny Tuesday morning on September 11, 2001. Then when the clock struck 8:46am, the entire classroom and our teachers look out the window and see smoke coming from somewhere in Manhattan. Then we hear the reports and announcements in our class that 9/11 happened. A plane has struck the World Trade Center. All we could have done that day was what we were doing.

Overhearing our teachers talk with each other, all the students were in shock trying to really understand what made us all jump out of our seat and focus our attention outside our window, miles away from Queens, NY to downtown Manhattan.

Then I see my friend near me in fear, and we hear his parents worked in the World Trade Center. We were all hoping for the best, but what could we possibly have done, we were only kids. We were trying to calm down my friend and praying to god for what has occurred.

Fast forward, I come home and turn on the TV to find out what happened. There were attacks to the World Trade Center at 8:46am and 9:03am. Then my family and I talked over what was going on and immediately thought the blame for what happened would come to the Muslims around the world. Little did we know this was the start to a history of a false belief that Muslims are Terrorists? We are not. We do not accept terrorism and nor do we promote it. We come from the religion of Islam that literally means Peace. For people who are Muslims and relate themselves to such act, we know as Muslims, they are going to hell.
This goes to show, a single person or a group of people' action can alter the history of an entire religion or group of people's history.

Ever since this happened, people still have to learn and grow out of this fake belief in society.
There have been millions of Muslims in the Middle East and American Soldiers in the Middle East all for this notion.
Nothing good came out of this. Therefore, next time anyone does anything, think of the consequences and try to think of how many people will be affected by your actions.

WE WILL ALWAYS REMEMBER 9/11 AND THE PEOPLE WHO LOST LIVES AND FAMILIES THAT LOST THEIR LOVED ONES.

IN REMEMBERANCE OF 9/11!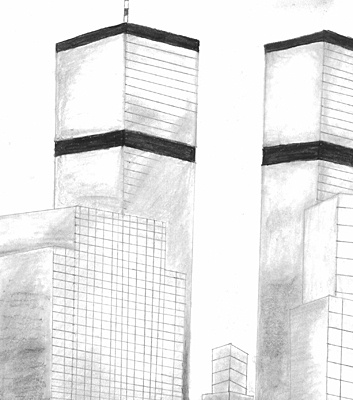 © Krisa S., Omar, WV