Summer Night Reflection
September 8, 2012
I decided to take a walk since I wasted another day watching TV. Upon my travels, I started to gravitate to my old elementary school. I never set out to go there, I just flowed there as if a current was pushing me and I went along for the ride. I'm not the type of person to fight it.

As I approached the school, the same current led me to the playground behind the school. I returned to the very place where I spent five years of my life. I directed my eyes to the swings and saw all but one were as still as the air, some tangled with each other, a couple upside down. The one furthest away from me was still moving as if someone just left. The anonymity of it felt like I wasn't alone on my journey. I slowly headed over to the swing next to the one that was still moving, flipped it right side up, and let my legs and physics do the rest.

When I settled into a rhythm, I started to look around. The sky was clear with the occasional pink and purple clouds; below that, was the verdant vibrancy that so elegantly contrasted with the twilight sky. A little while later, the sun was behind the surrounding tree line. The moon crawled closer to its zenith. I felt as if I was in a dream. The only sounds are the metallic whispering of the swing, echoing birds and cars in the distance, and the occasional thought that passes me by.

I panned around the playground to notice that over the past eight years, I've changed more than the playground has. I've made several visits to the Birches playground since I moved on to middle school, but I feel like a different person every time I come back. Every time I visit the playground, I notice that I reach a different step of maturity and wisdom. It's memorizing to see where I've been and where I'm going but it's even more awe-inspiring seeing how I stayed the same for all those years. As I'm taking it all in, my sister calls my phone telling me I should come home. She says that I need to pick out the clothes for my senior picture. I'll have to leave my childhood haven, but I will be back soon.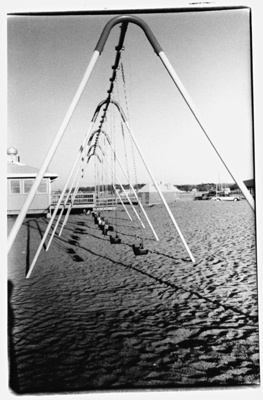 © Gina M., Marblehead, MA