My Tidal Wave
September 5, 2012
It's interesting really, life. How people can come and go. Like swells on a stormy day as you sway in the middle, a boat attempting not to loose its way. However, it is not the disappearance of swells that devastates a person, for they slowly fade away, it is the large tidal wave that carries you atop its crest and quickly fades into an abyss. I've encountered a tidal wave in my life; someone who has changed my life beyond any expectation, someone who has carried me above the world but was too soon taken out of my sight. Her name was Elizabeth O'Connor and in 2006, she was diagnosed with breast cancer.

Pre-school teacher and Harry Potter enthusiast, "Auntie B." was one of the most loving people this world has seen. She was not married, she did not have children and she didn't need either. She loved everyone around her as if they were the only ones in her life. All her concern and love for those closest to her compelled her to hide her cancer for years for fear of saddening or inflicting stress on others. When we finally grabbed hold of the news, my family had only one response: invite her to live with us.

"Cancer schmanser," we used to joke, as Auntie would float around the pool, fulfilling her daily exercising requirements. At our house, cancer simply didn't exist. I have no memories of chemo or of Auntie loosing her hair. The only memories I have held onto were those of us racing against each other to finish the latest Harry Potter book or watching the food network together. She would always muster the strength to support me at my competitions wearing her pink bandana and smiling, emanating her spirit to the world. She was a very selfless person, always thinking of what she could do to make your day better. I like remembering Auntie like that; happy, painless, laughing.

Eventually the cancer spread to her lungs. She became sicker and sicker, moving into her sisters house for around the clock nursing. Everyday I would go and visit her. It was sad to see her like that; hooked up to wires, ivs, lying still in a bed, mute. I would talk to her however, her only response was the sincerity deep in her eyes. My mom acted like nothing had changed, she would joke around and poke fun at Auntie. But that was not my Auntie. That was a ghostly pale body lying on a bed. That bed was too small for my Auntie, that room was too dark, the street was too noisy. I wanted Auntie out of there, I wanted to see the Auntie I had seen floating in the pool just months before. I wanted Auntie back.

There was one day I went to visit her; I believed I had experienced a miracle. Auntie was sitting up, she had color back in her ivory Irish cheeks and she was talking, not muttering, talking. We laughed and reminisced about the good 'ol days, the 14 blissful years we had spent together. Begrudgingly, I hugged my Auntie goodbye, I gave her a kiss and I parted saying, "I love you and I'll see you later."

That night, inspired by Auntie's progress I decided to make her a keepsake box. I painted the box pink and carefully laid a picture of us inside. My mom soon enough stormed into the room and told me my Auntie had passed. I didn't cry I just sat there, frozen. My tidal wave had left, dropped me off it's crest and now I sat at the bottom of the ocean, vulnerable and weak. I have never cried at the thought of loosing my Auntie for I have a sense she has never left. But many times I fear this sense is simply denial and I will have to grieve the loss of my Auntie someday.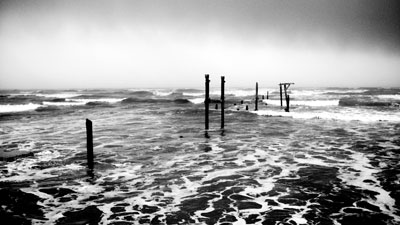 © Harrison L., Ruston, LA