Beach Camping
MAG
August 20, 2012
Age seven. I know we're almost there when we have to stop at the bait shop to buy a flag; we forget one every time. The next sign is when we drive through a ring of bare hills that used to hold thousands of pine trees. And then, finally, we smell the salt in the air. We open the sunroof, and my siblings and I balance ourselves on the seat cushions between my mom and dad. We hold the flag up until it's whipping feverishly in the wind as we lean out the window.

Then we're on the beach and the car is jumping through the sand. We laugh so hard we fall back inside in a heap. The sky is a beautiful teal as it melts into the ocean. Foam trails behind the tide in arches; the sand is soft and white in the bright afternoon sunlight.

We explode from the car, falling on our knees in the soft sand. It holds warmth from hours of heat, and we sink in even deeper as the air gradually cools. In my swimsuit, I sprint toward the ocean. My brothers race. My little sister stumbles behind until I pick her up, galloping with her balanced on my hip.

We reach the water. It's so cold I have to bite my bottom lip and leap from the icy waves. We run toward the retreating tide, and then, when it suddenly crawls back toward us, we scream and tumble away. Then we hurry back to camp, the water beading up on our skin and falling like tears. We grab towels with bold stripes and wipe ourselves dry.

Back in a pair of worn jeans and a fluffy sweater, I investigate the driftwood with my siblings. There's a little river that runs to the ocean through the heaps of driftwood. We wander across long logs and pile the smaller ones into a fort. The dogs scamper up and down the logs like mountain goats, their pink tongues hanging from their smiling jowls. We roll up the bottoms of our pants and wade through the stream, attempting to catch any fish scurrying toward the ocean.

And when the sun sinks so low that it kisses the sea tenderly, we curl up by the crackling fire. We roast hot dogs on smooth driftwood sticks, and sip hot cocoa. We roast marshmallows, and my oldest brother gives us younger kids lessons on how to get that perfect golden brown color. We burn half of them. Then we light the tips of our sticks in the coals and swirl them around, creating orange trails in the dark night. We laugh as we write our names in the sky.

"Bedtime," Mom says as she collects empty cocoa cups. Then we crawl to our tents and bundle into our warm sleeping bags. And amidst whispers of wind tossing sand and the soft lull of waves hitting the shore, I fall asleep.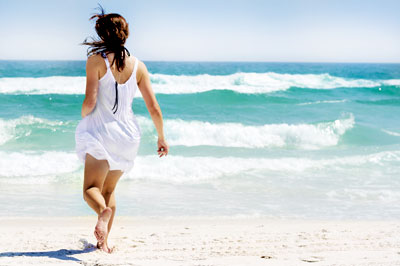 © Rebecca B., Marietta, GA