"it gets better."
August 20, 2012
Today in band, my teacher was out, but the student teacher was still in so we did one quick run-through of a movement and then she gave us the rest of class off. Not wanting to deal with people or that guy, I asked her (as my voice broke a little), "Can I sit out in the hall for the rest of the period? I just don't want to be here." She hesitantly gave me permission and I could feel her standing, confused and concerned, as I walked out and found an open practice room.

Nothing was particularly wrong at the time; I just didn't want to be in a room where I could see that guy not with me for half an hour. I sat and went through my phone for a bit until I heard voices coming from the band room:

"I'm gonna go see if she's okay."
"No, I'll do it."

The student teacher let Nick check up on me. I've known Nick since kindergarten. We were never really friends, just always comfortable talking with each other and joking around. But for as long as everyone has known him, everyone has always suspected that he was gay. I'm not sure how we knew what homosexuality was back then, but I guess we had an idea. Through the years, he's liked girls and had girlfriends and nobody ever gave him s*** about anything. Nick was a bad-ass guy who was who he was and never felt the need to hide it. Sometime during high school, he officially came out and he's only ever gotten stronger.

So he popped in and we exchanged pleasantries and ultimately discussed the problem: that guy. I'm not so secretly a wreck emotionally and mentally with him in my life. Knowing that guy is genuinely the hardest thing I've had to endure my entire life so far. We shared our thoughts and had a few chuckles and I shed a couple tears. He gave me his honest opinions and solid advice, concluding with: it gets better. At that sentence, I smiled.

Imagine that: a gay man in high school telling little me that 'it gets better'. I thought, if a gay guy can whole-heartedly assure me with bright eyes and a wide smile that 'it gets better', then f*** everything I've ever cried over, it will. It will get better, I will get better, and I am happy that I have a friend with such a beautiful heart and strong mind.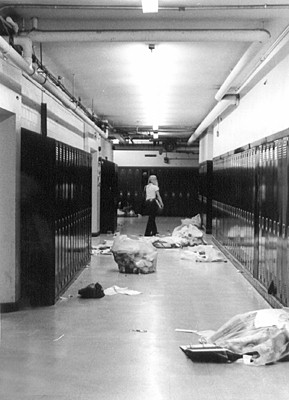 © Halsey S., Marblehead, MA