Was I Nothing To You?
August 28, 2012
As I lie here and these images of love and loss flow through my jumbled excuse of a mind I feel sadness remembering the one whom I held in such high regard in my heart, remembering that disastrous day that destroyed everything we had…

I remember the day so clearly, it is permanently engraved in my mind as a lesson I will never forget. It was the start of the second week of the Pre-Winter holidays on a cold Thursday morning when I knocked on the peeling pale white painted wooden door. You answered the door with a smile on your face, wearing my grey flannel checked shirt. You wrapped your arms around me and softly kissed my neck before leading me into the living room.

The small room, lit only by the TV frozen on the blue AV1 channel, smelt like a mixture of cigarette smoke and sweet perfume. The two long couches and single arm chair were arranged in such a manner that the TV could be seen from every seat in the room. You took me by the hand and sat me down in the couch at the far back of the room where I sat and watched as you walked towards the set, changing it to the music channel, before moving into the kitchen in my shirt and your loose, baggy jeans. Even washing the dishes you had a sort of grace I had never seen before and couldn't help but walk up behind you and wrap my arms around your waist. I whispered in your ear all manners of beautiful phrases and compliments as you smiled and washed the fry pan you'd used the night before.

You wiped your hands on the Christmas style tea towel and took my hands from around your waist and held them in your own. I spun you around and pulled you towards me; you responded by putting your head on my shoulder and brought yourself even closer to me. We swayed back and forth not wanting to let go of one another before we decided to move back into the living room where we both sat down on the back couch.

The minutes ticked by as I held you in my arms in the dim room and we watched the different music videos that came one after another. This continued for a few more minutes before you turned and looked me straight in the eye and put your finger to my lips. I was mesmerised and completely under your spell as you climbed onto my lap while all the while still keeping eye contact and your finger pressed against my lips. You removed your finger and began unbuttoning your shirt, revealing your bare skin before leaning forward and pushing your lips against my own. Your skin was so smooth to touch and I could feel myself shaking with so much passion and feeling between us.

Things got heavy and felt as though we had become closer than before when I remembered that only yesterday you had made me cry. Made me cry by not answering me when I asked the question, "Do you really care about me?" without hesitation. I stopped and put my hands forward to stop you from continuing any further. You had a saddened look in your eyes but the sadness in my heart was stronger and I felt the tears building in my eyes. You tried to comfort me but I couldn't bring myself to look at you.

I sat in silence for what seemed like an hour, I recognised that you had your head buried in my chest but I still couldn't look you in the eyes. But then I felt you tremble and make a slight sobbing sound. I asked you to look up but you only dug in deeper and shook your head. I begged you to look and began crying again as I realised having you cry in front of me was worse than how I felt right now. You looked up and I saw a look in your eyes I'd never seen before in my life, words can't describe the sadness I saw and it's a look to this day I have not yet seen again. And then you whispered three words that swept me away and opened my mind enough to believe anything and especially that you truly did care for me.

And now here I am almost two years on and I still can't understand why we grew so far apart. Why did you say those three words to me after I saw that indescribable look on your face? You said "I love you" and I honestly believed you, but only a few days later we broke up and since that day we have not spoken a word to one another. I know now that I was only young and naïve but now I see you with a baby who's a few months old and a guy who would give up on you in an instant.

I keep playing this over and over in my mind and I still can't answer the question on whether or not you truly did care about me like I did you or I was just the new taste of the month. I guess I'll never know the answer…

Goodbye, you'll always have a place in my thoughts.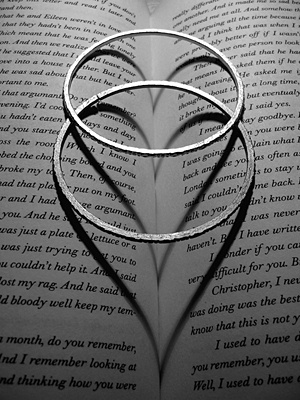 © Julia K., Old Tappan, NJ