Our Last Night (part 2 of 'What Happened That Friday)
August 12, 2012
I sit in my chair and look around as the boys head towards our side of the hall. I suddenly wonder who will choose me, and then realise it doesn't matter. I don't care anymore.
Year 7 graduation was supposed to be fun, and it is, kind of. I enjoyed the skits and plays put on by the other classes. My biggest mistake in the universe was volunteering to replace Scott, but that doesn't matter. I look down at my skirt.
Nanna bought this dress because the saleslady told her it was fashionable. I've told her not to buy clothes for me if I'm not there, but I suppose she forgot. I don't like it, but surprisingly everyone else does. At least it's better than what Amy's wearing. Hmm, let's see, Little Black Dress vs Purple T-Shirt and Jeans. No competition.
I jerk myself out of my reverie as a voice asks, "May I have this dance?" I almost laugh at him. Formal speech doesn't suit Raiden, but it's a requirement. I stand up and begin to accept, but then I hear another voice.
"May I have this dance?"
I freeze and then slowly turned my head to face James. My mind is blank. I should be angry or crying or something, but instead my heart betrays me by fluttering nervously. I say yes and look back at Raiden, mouthing 'sorry'. His face is a mixture of disappointment and amazement as we walk away.
We line up with the other couples, and my mind goes into overdrive. Why did he ask me to dance with him? I thought we were over. And why is my heart doing that? I should be completely over him by now.
Mr W walks to the front with a microphone and slips the disk into the CD player. "This with be a progressive dance."
I almost groan with disappointment. Instead, I look into James' eyes and I'm surprised to see that he also looks a little disappointed. What's going on here? He shouldn't feel that way. He's the one who DUMPED me, for god's sake!
But right at this moment, I don't care. The music starts, and we start dancing with carefully practiced steps. After all, we did practice for the last 2 months.
We complete our steps and I move to the next partner to do it all again. Progressive dances suck, I think to myself. You finally get the partner you want, only to have to leave them after the short dance together.
When the dance ends, I'm halfway down the line. My partner walks me to my seat and quickly leaves, and I have ample time to think about what just happened.
After the boys dances with their mums, it's all over. I meet my dad and he waves his camera. "What now?"
"We have a snack and talk," I say, guiding him out the door. "Parents get coffee and cake over there, students get ice-blocks and poppers at the tuckshop." We part and get our food. I have the camera now, and I take a few photos of my friends. After a group shot with Ebony and Phoenix, I look around for James. But he's already gone. So I got looking for Raiden and take a photo of him, laughing at his outfit. He's dressed up as Michael Jackson, complete with hat and gloves. Funnily enough, it suits him.
The night finishes up, and Dad and I walk to the car. On the way home, I stare out the window, thinking about that dance. I can't come to any conclusions, and instead focus on the passing lights of shops and houses. The year is nearly over.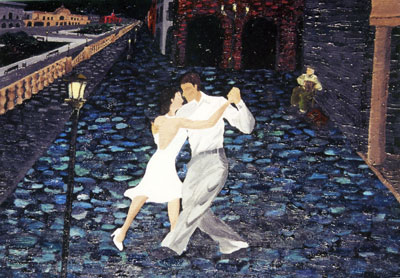 © Elizabeth M., Kannapolis, NC