Lovely Campout
August 11, 2012
Last week I went on a camping trip with my youth group. We went up to our pastors cabin on Wednesday, and we came back that Friday.

On Wednesday, after we left for the cabin we stopped at a water/theme park.we all had a ton of fun there and we were disappointed we had to leave even though we had been there for six and a half hours. When we got to the cabin we were able to unpack and set up where we were sleeping. Girls get in the cabin boys get tents outside. We then sat around, sang worship song, and ate dinner. We then tried to go to bed, but, all the guys had to come in because there was a really bad storm coming through.eventually we got to sleep though, after the guys left the cabin so it wasn't that loud.

The next day we woke up and it was still raining a little. Once we were all up we did devotions and sang some more, then ate breakfast. We were finally able to leave for the lake we were already supposed to be at. When we finally got there we ate lunch, rode jet-skis, and swim in the lake. When a few of us got bored of doing that we went and played wood-chips on the playground. Unfortunately we then had to leave, so we all took showers and, the very best part, got ice cream. We all agreed that the ice cream there is as good as oberweiss,but since it's cheaper, it tastes much better.
When we got back from the lake, we went on a hike to see where our pastor hunts. Even though I'm a vegetarian, I thought it was really cool. When we got back, we sang again, ate dinner, and made s'mores.
After s'mores came my favorite part of these camp-outs.

We hiked out to the actual rode to lay down in it and look up at the stars. As we were walking down there I ended up walking right next to this guy, we will call him Alex. Alex and I walked the entire way out to the street talking about Dora the explorer and walking right next to each other. However, we did have to stop when we got to the road to decide if we should keep going, or turn around (there was lightning in the distance). While we were stopped,I was still next to Alex and I then realized how tired I was so I told Alex to stand still,then I laid on his arm.

We then decided to just keep going since the storm was so far away. When we decided to head back, again I was walking with Alex, only this time we talked with a few other people about how stupid the show Jersey shore is. When we got back to the cabin, most people went to bed, but about five of us stayed up talking till two thirty in the morning, then we went to sleep.

When we got up the next morning, we ended up having some time to just sit before devotions, songs, and breakfast. In that time, I got Alex to come sit by me so I could lay on his arm again. When we finished breakfast, we packed and moved a ton of firewood.

On our way home we stopped at McDonalds for lunch. I ended up eating with Alex and a few other guys. Then Alex and I walked to Walgreens to get Arizona teas, the others soon followed.

When we got back to our pastors house,we unpacked and waited for our parents. When my mom came to get me we went out for dinner and I told her what happened with Alex. I hadn't noticed this until she said it; there might be something going on between me and Alex. That' s when I realized how much I wanted there to be something there.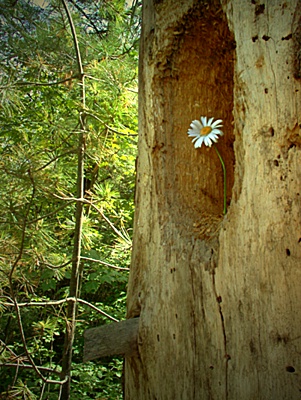 © Anna R, Sudbury, ON, Canada