My Fight with Self-Harm.
July 20, 2012
My life has been hard since day 1. I grew up with a mother who was constantly sick, and a father who was never around. When i was 3 years old, My grandmother fought for custody of me. She won. I grew up well. Being constantly spoiled. Then, When I was 10 years old, Everything changed.

It was around mid-night. The phone kept ringing and ringing. I stood at the top of the stairs, wondering what was going on. I said to myself "Someone better have died.." You don't know how much I regret those words. I went downstairs and asked what was going on. My grandma motioned for me to sit on the couch. I sat. She told me that my Mother had passed away. I didn't believe her. I couldn't believe it was happening.

Months later, I started acting up. Not paying attention in class. Then, I was called to the office. They asked me how I was, how I was feeling. I said "I'm fine." and they let me leave.

When I got home later that day, I saw a note on the counter from my grandma. It said, "I will be home at 7. Got called into work. Love you." I noticed something out of the corner of my eye. Something silver. Something..sharp. I walked over to it and slid my fingers across the blade, taking in the possible pain. I grabbed it and walked into the bathroom. I sat down in the tub, fully dressed. I turned on the shower and grabbed the knife and looked at my wrist. Then, I slashed the blade across it.

2 hours later, my Grandma came home. I could faintly hear her calling my name. I moaned. I wasn't sure if I was even still alive. She walked in and started screaming. The tub was soaked in blood, and there, in the middle of the mess, was me.

Falling in and out of consciousness, I heard sirens. I heard crying. Then, I saw nothing.

I woke up in the hospital, my Grandma asleep in the chair next to me. I asked what happened. She said "You lost a majority of your blood." I looked at her with an "I'm-sorry" look. She looked at me with an "I'm-going-to-kill-you-look" I turned over and tried to get some rest, knowing, this would never be over.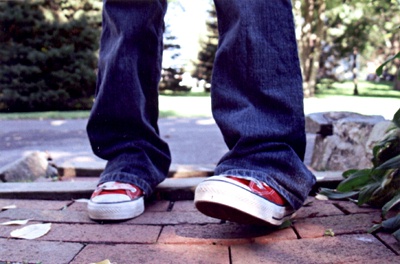 © Sara M., Milford, CT