A Midsummer Night in Thanks
July 19, 2012
The most beloved bench ever built is situated atop a small hill in Angel Island, the early twentieth century immigration station located in the San Francisco Bay. Each year I set out on the 125-mile journey — 122 miles in a car, two miles in a ferry, and one mile on foot — so I may once again see that sweet piece of furniture contentedly overlooking the Pacific's cold, foamy waves that ferociously rise and gently break.

I've come to know that bench well. It is withered and wooden, with a slightly curved base and softly rounded edges, but it stands nobly as a locus of our national strength. Sites facilitated by the U.S. during the two World Wars and the Cold War, as well as the immigration center that stood as a haven for the many millions who flocked to its footings, are all located within a short radius of that bench, and each time I visit it I conjure up images of a brave America as a force for change and hope.

But the utmost greatness of the bench lies in a powerful, evocative tribute carefully carved into its backboard: "In memory of Hedi and Ernest Schott, who escaped from Germany to freedom in 1940. Thank you, America."

It's the last line that sounds preciously familiar. Those are the words that flushed the soul of my great-great-great grandparents, who in the 1920s left a northwestern India rife with religious persecution for this nation of the free. Those are the words that reverberated in the hearts of my great-grandparents who arrived in the 1960s, my grandparents and mother who came in the 1970s, and my father who came in 1994. And as a descendant of four generations of indebted individuals, "Thank you, America" echoes in me.

This year, for the first time, I chose July 4 to embark on that trip to that ferry, up that hill, and to that bench. But as I neared the hill's summit, eager for the comfort of the bench after the toil of the hike up, I was forced to halt in my tracks. A lanky, dark-complected woman with a pockmarked face and short-curly hair was standing alongside the bench, her gaze intently fixed upon the inscription and her hand slowly slipping out of her crocheted sweater's pocket. I smiled knowingly from a few paces away. She brought her fingers to words and began feeling along the grooves of the last line, retracing the message meaningfully, passionately, as I had done many a time on my heart.

Gradually she became aware of my presence. I nodded towards the bench; we sat down side-by-side. She introduced herself first. Ana Esmeralda, she insisted I call her, since long, formal names had "a graceful and flowing way about them." She had a regal way about her, poised confident and upright as she smoothed out her mulberry-colored skirt against the breeze that blew northward.

She first made clear that she was resourceful and ambitious, having graduated from the acclaimed Universidad José Cecilio de Valle, a name she enunciated with beautiful authenticity.

She said she had recently immigrated to America from her native Honduras in one decisive move absent of any qualms. "I left behind my past, my comfort place, and the country of my childhood," she professed, "so I could journey towards the land of dreams."

"I had asked the Lord to lead me to my heart's home. He's done it, and he chose well, you see," she said, nodding her head. "He chose for me well."

We politely spoke some more, touching on topics ranging from the coup d'état that exiled the Honduran president in 2009 to the recent free presidential election in Egypt to the transformation of the healthcare system back at home. We felt no need to elaborate on that point; we knew where home was.

As the skies dimmed and softened, we followed suit and slipped back into our reserved characters and quiet, contemplative selves. In the distance, we heard the spectacle of sparklers warming up.

"Simply amazing," she whispered, humbled and awed, as they neared a finish.

I smiled approvingly; the fireworks were quite a show.

"Simply amazing," she spoke again, this time more resolutely. "What an amazing country. What a beautiful place."

Back on the mainland, the chatter and mirth of the San Francisco folk, in combination with the shrieks of fireworks from distant regions ahead, created a glorious symphony that resounded deeply across the skies. But throughout the night, I still heard one distinct chorus so powerful, so majestic that it rang from the splendid mountains of Hawaii to the pristine bays of Maine. One amplified by life stories of me and other grateful individuals with an outlook one and the same: Thank you, America. Beautiful, brave America. Exalted be your name.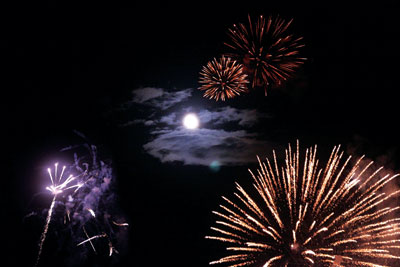 © Meena K., Groton, MA