Working as a Virtual Editorial Intern
July 19, 2012
This summer I am working as a virtual editorial intern for the online-only magazine Women Writers, Women Books. This is the first time I have experienced working virtually, and I love it! It's very flexible and allows me the opportunity to work at odd hours, such as early in the morning or late at night. Being a writer, I sometimes feel most inspired and get my best work done after midnight! I can also work on the weekends, which would not be an option in an in-person corporate setting. Working remotely also makes it easy to balance my internship, my part-time job, time with family and friends, and my three summer classes at college.

Through working as a virtual intern, I've acquired a number of new skills. I've learned how to upload articles and edit photos on WordPress, and I have done screen-sharing with my editor using http://www.join.me. Screen-sharing is very useful when technical difficulties arise, and I need to be able to have a visual representation of what's happening so that the problem can be solved.

We also use www.dropbox.com, which allows my editor and me to share documents just by dropping them into a folder on our computers! This online application has proven to be extremely valuable, as it saves time and eliminates clutter in our inboxes from otherwise emailing dozens of Word documents back and forth.

Since I work virtually and have yet to have any face-to-face contact with my editor, it's crucial to be able to do remote phone conferencing and to be willing to email progress reports so that we both know where we are on projects. Of course, this sharpens my communication skills and my ability to articulate the status on a project, any questions I may have, and the acknowledgement that I understand whatever advice or direction had been given to me in a previous email. Also, I'm keeping track of and recording my work hours in a detailed time log the way a virtual contractor would need to. This is a great way to make sure that I meet (and sometimes exceed!) the weekly quota of work hours.

In addition to new technology, I've also been able to learn about different styles of writing. Typically I'm used to writing and editing essays for my college courses, which is very formal compared to the more colloquial language of Internet blog posts. I've had to get used to the fact that slang can be okay on blog posts, and contractions like "it's" and "that's" are acceptable, whereas in a research paper they would be frowned upon. The format is different as well: I don't have to worry about adding citations or a works cited list, and sometimes paragraphs are as short as one or two sentences, compared to the standard 3-5 sentence paragraph we're taught in school. I think it has broadened my writing and editing skills to be able to recognize what kind of style a particular piece of writing should have based on the audience, and whether a word or phrase is acceptable for that style.

My advice to anyone planning to do a virtual internship is to determine ahead of time whether you have:
•Strong organizational skills
•Good communication skills
•Motivation, and
•Time management skills.

Working remotely means you don't have set hours where you're in an office, and no in-person supervisor, so you'll need to be able to independently determine how much work you need to put into a project each day in order to meet deadlines.

You also have to be able to organize a list (or multiple lists!) of what projects you've started, which ones are finished and need to be approved, and how much time you spent on each one of them so that you can record the amount in your time log.

Since you don't meet in person with your editor or manager, you need to be able to frequently communicate to them (via email and phone) what stage you are at in a project or if you need help or clarification.

You'll also want to make sure you know ahead of time what your goals are for the internship, and communicate them up front to your supervisor. Also make sure that you understand what your responsibilities are, and what you will be expected to accomplish (both on a daily basis and on the whole for the duration of the internship).

Mutual benefit for both you and your virtual supervisor is very important, and highlighting what you and your boss hope to achieve by the end of the internship is crucial to making it a valuable experience for both participants.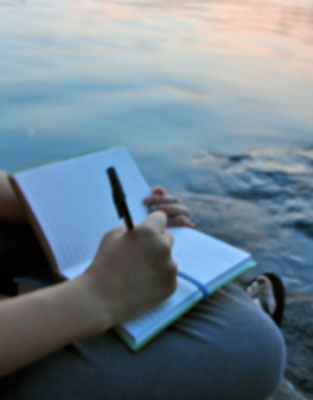 © Grace K., Port Washington, NY