The Endangered Species of Me
July 15, 2012
At most middle schools, fashion, current music and the hot boy star are the highest points of interest among most girls.
MOST girls.
I sometimes feel like an outsider, due to the fact that I live in the past, and I sometimes think of myself as uppity for believing that, but I feel it to be true: while most girls focus on Justin Bieber, I turn to the other peculiar haired hotties who made girls swoon... in the 60's. While all the girls sigh because their mother wouldn't buy those high heels for them, I wonder what it would be like to walk barefoot on a cloud. While other girls worry about the main character in The Hunger Games, I curl up with the unknown stories of Michael Ende.
Some people may say that considering oneself special these days is common and dumb, that the more special you think you are, the less special you are, because any old blob can claim they're different, and people will believe them. I don't know if I'm pretentious if I say this,though I am only my age, and in some things I am very much like everybody else,but I know that I really am different. And you know what? It feels good.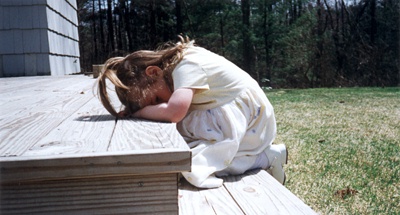 © Katherine B., Hingham, MA