The Dial-Up Tour: February 4, 2012
June 25, 2012
I woke up around 8 and Maeve and I showered and made sure we were presentable. She put on my livelavalive hoodie and I put on my blue sweater which read "You are the 1.21 gigawatts that power my flux capacitor" on the front.

We stopped by McDonalds for a "refreshing and healthy breakfast meal" while Maeve ate apple slices and almonds. For the full hour and a half ride to Anaheim, Maeve and I listened YACHT, 3oh!3, Panic! At The Disco, and Nicki Minaj all the while dancing in sync with each other.
We pulled in around 11 and hurried to the line that had begun to form outside the House of Blues. It was about 11:13 or so when we got to the line and the second we got there they started letting people in. Once we were inside we didn't know what to do. We just stood there trying to take in the environment. We had never seen so many v-necks and iPhones in one room before that wasn't an Apple store.

After we took in the scene we headed over to the merch table to get all of our shopping out of the way so we could be ready for anything after the show. (And it was a good thing we did, but that will come up later in this story.) Maeve bought herself a livelavalive bracelet and an "I Partied With Nanakitty/livelavalive @ The Dial-Up Tour" shirt. I got myself a #hugswag t-shirt and a huge tour poster with Kyle, Mitchell, Tessa, and Shawna on it.

As the crowd sat patiently dancing and singing to the tunes they played through the room, Tessa decided to tease everyone and crawl across stage with her little Minnie Mouse ears on. Once the crowd settled down again, Olan Rogers stepped onto the stage. He pumped everyone back up and then started his act. His first story involved a child named Scotty stealing his Nutty Buddy in the 2nd grade and his mother angrily snatching it from the child when she came to pick him up from school. Next, he told us about the time he was in Target on a Monday and had nothing to do so he screamed bloody murder until the only other person in the bathroom literally got scared the crap out of and ran out of the bathroom without his pants on. According to the Target employee he informed, this happens quite often. He ended his hilarious act with a story about him crapping on some stranger's yard.

Nanakitty came on after Olan. There were some technical difficulties, so Tessa distracted us with facts about Legend of Zelda and Shawna asked if we wanted to hear a joke and proceeded to just say "women's rights." Once their music started working, they performed their "Space Crustaceans" song in full space outfits. When that was over they stripped off there space outfits while Shawna hummed the Pink Panther tune because according to her that's the only song she can imagine someone stripping to. Their full show contained a song about lizards scratching on car doors and one last performance with their song "Dirty Hipster No Nose" in which Kyle jumped out at the last second to dance with them and the crowd exploded with excitement.

Next on stage was livelavalive. Kyle started to push out the screen they needed for their act and Maeve and I could barely see Mitchell on the other side of the screen. All of a sudden the screen lit up with their logo and Maeve screamed so loud I thought we were going to be deaf by the end of the night. You could see Mitchell and Kyle moving around in front of the light behind the screen and then they walked out in front of it. It was a pretty surreal moment to see them both in real life. I still don't believe it. They sound exactly the same and look exactly the same as they do online so it seemed almost the same. But this time they were actually there. Their act was the longest so I'm not going to go into detail about every little thing they did like I did with the other acts. They did a QME skit, re-enacted "The Paper" with a girl from the crowd who was almost Maeve (seriously Kyle was going between Maeve and this little bouncy girl who barely even knew who these kids were), Mitchell filmed a video for his keek in which we all had to pretend to be Richard Simmons and follow Kyle's every move, Jerry and Stache made an appearance, and all-in-all it was an amazing performance.

After Mitchell and Kyle said their goodbyes to the crowd, Alex Carpenter and Jason Munday came on to sing songs about Luna Lovegood (Alex made a Pigfarts reference and Maeve and I dubbed him our new best friend), Star Wars, falling in love with tumblr girls, having a great night, and last but certainly not least they sang about bacon with Tessa. There were some lightsabers involved with their entrance and Alex has the same one as I do from what I could see on stage.

Before they left the stage they talked about the meet and greet after the show and Maeve and I looked at each other with sad faces because we had not been able to buy the meet and greet part of the show. But then Alex said that anyone could just walk upstairs, so the second they got offstage we headed straight there. Apparently the meet and greet we didn't get to buy online was just a wristband to make sure you got in. We were sent to a room for the extras that didn't have wristbands, but soon enough we were in. That's why it was a great thing that we had already stopped by the merch table. If we hadn't, we might not have gotten into the room. It took about and hour to get to the signing table. We talked with the people in front of us who were quite nice while we waited to meet everyone.

The first people we met were Tessa and Shawna. They asked our names and shook our hands while signing our items (my poster and Maeve's ticket stub). Tessa had a very firm handshake and gave you a weird look when she said your name. Shawna said Maeve's name about three times and the last time gave her a weird face and said it strangely so she would remember.

Next were Alex, Jason, and Olan. Alex instantly asked about my sweater and where I got it. When I told him I made it he was instantly excited. He and Jason simultaneously read it aloud and then said how cool it was. Alex gave me a high five for my true geeky-ness and then asked my name and signed my poster. Jason and Olan shook my hand, asked my name, and also signed my poster.

When I walked over to Kyle, he instantly noticed my sweater and said "That's a flux capacitor on your stomach." I nodded while he just said how cool that was and signed my poster. I looked over to Mitchell and he had said something like "that's cool" in the background about my sweater and introduced himself. While he was signing my poster I told him I had a gift for him, to which he said "no you don't" as if he didn't deserve a gift. To prove him wrong, I pulled out my framed artwork I had made while Kyle kept saying that I was lying and there was no gift in my bag. I gave Mitchell the art while Maeve handed over the Swedish Fish I had bought and we apologized because we know how many bags of those they must have already. Kyle sarcastically said no while simultaneously pulling out two other bags and a box of them that they had behind them. The whole time that was going on, Mitchell was examining my artwork and saying how great it was and that it was so cool. Then he hugged me and thanked me so much for coming and for the great gift. He and Kyle signed Maeve's ticket and Maeve got her hug from Mitchell and we were on our way to end this amazing day.

Or so we thought.

We walked around Downtown Disney and spotted Kyle and Olan talking with some fans out front, Alex and Jason walking around with friends, Mitchell walking around alone, and Tessa and Shawna rolling around on their Heely's shoes.

We were thrown off by them being out and about so we continued to sit in front of the Rainforest Café and attempt at making a quick video diary to document our day on Maeve's iPhone. Once we were done with that, we headed back to the House of Blues to try and get a picture with everyone.

We saw Kyle walking back to the House of Blues and were able to ask him for a picture really quick. He said yes and apologized for sounding mean. He said the security guards were acting like "d-bags" and were threatening to kick everyone out because we were all hanging out and taking pictures. To avoid any of the security he said we should all "pretend like we're dating so they won't get angry." The three of us walked for a little and then stopped by the large water fountain and he put his arms around us and said "whoops we took a picture" while Maeve quickly captured the moment on her phone. He thanked us for coming and went on his way.

We were determined to find Mitchell and get a picture so we hung out by the fountain out front for a little bit. The second we went to sit down on it I turned around and saw Mitchell walking back to the back part of the House of Blues. I grabbed Maeve's shoulder and whispered "I spy a Mitchell" while gesturing my head towards his direction. We quickly walked up to him and asked for a picture. He said he would love to, but the security guards were being even stricter now and were seriously going to kick everyone out if they saw them taking one more picture. He said he was really sorry and then apologetically booped us on our noses (he even muttered "boop" while doing so) and said goodbye and thanks for coming.

The next thing I knew we were watching all of the footage of the day on my laptop back home. It still felt like a dream. It still does. I keep replaying the moments that we didn't get on film in my head: meeting everyone after the show, hugging Mitchell, "dating" Kyle, and the whole essence of the day itself. It still doesn't feel real. I don't think it ever will, to be honest.

But I will know that it's real. I will know that this magical day actually happened and that I was given the opportunity to meet one of my greatest inspirations in life. Which, in the end, is all that really matters to me. I met one of the greatest influences in my life, and February 4, 2012 will be a day I will always remember.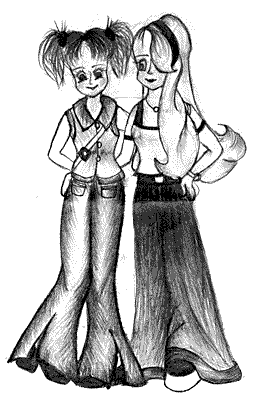 © Na L., Flushing, NY