Light Bulb Moment
June 21, 2012
Written Assignment: Diagnostic Writing

You have two choices for this writing assignment. Please choose only ONE of the topics below:
1. Write about a time when you experienced a 'light bulb moment.' Think of an experience when you realized that you suddenly understood an idea, a skill, or a concept you had been struggling with -- it might be something related to a class that you took or a specific athletic skill you were trying to perfect. Write a narrative that tells the story of your movement toward understanding. How did you finally come to understand? What changed your perceptions and gave you a new understanding? You might write about how you came to understand a difficult math problem—or how to perform the high jump—or how to play a song on your guitar. Your paper should help readers understand how you felt struggling with the idea or skill and then how you came to understand it.
-OR-
2. Describe a personal ritual that you, your friends, or your family performs. Think about the personal steps that you always go through when you prepare for an exam. Do you sit at a desk, spread books and notes across your bed, or use the kitchen table? Do you have to have something to drink...soda, coffee, Jolt? There are many activities that we do for which we create our own personal rituals. Choose one event – getting ready to go to school or your job, practicing a musical instrument, dressing and warming up before a game or a meet, or preparing and having a special family meal. Narrate the events that take place when you complete your ritual so that your readers understand the steps that the ritual includes and why they are important to you.
You may choose only one of these assignments to complete.  Both assignments require you to persuade your readers that your opinion is valid.  Make sure to provide significant details. This assignment requires a minimum of 500 words and may be returned if it is not long enough to evaluate.
This assignment is not optional and must be completed before you turn in any other assignments in the course. 

The first time I experienced a light bulb moment was when I went to Gettysburg for a week with my family. Looking at all the historical facts, I realized a few things, the few things I learned were the amount of dealths, where different places were located, and the number of wounded. These were three light bulb experiences I had while I was on my Gettysburg trip. During the war there were a huge number of deaths. There were also a large number of many people wounded. I have learned a lot from my Gettysburg trip. The number of deaths were up to six hundred and twenty thousand. I was shocked to see that number.

Secondly, a lot of people were wounded. Many of these troups that died were either unions or confederetes. I also learned that the restruant I ate at was called the Dobbin House. The Dobbin House was just like a hospital, if people were hurt severly they would get sent to the Dobbin House. If there were no use in trying to save that union or confederete they would just cut off a limb and throw it into a pile where they had the others that was not going to make it. To begin with my fmily and I stayed at a hunted hotel called Gettysurg Hotel. In this hotel there were many different pictures of different people, who either lived there while the war was going on or who fought to save anothers life. Many people often told us that at night you might hear soilders cry, many gunshots going off, anything too spook us. Everyday for a week my family and I would walk the streets of Gettysburg. We learned something new and interresting every day we were there. On the streets there would be different types of bullentins around showing, who was there and what happened. They also gave the year. We are now in 2012, so not much of anything happened in Gettysburg around this time. People still say we should watch our backs from now till ever.

Lastly, during the end of my trip I was taking on a ghost tour with my aunt, pap, brother and cousin Nikki. I learned why certain places araround and what the history behind them were. One man by the name of John had a wife by the name of Mary. John would always take care of Mary and always try an keep her safe. One day John said stay here, do not move, I will be back for you tonight. That same nght Mary just waited and waited trying to figure out if John would ever come back, till this day Mary haunts the place that John kept Mary. She still waits for John to get back. Trying to find her loved one she waits and does not give up. As we were going on with our tour, the lady walking and telling us these terriffic stories goes to a place right along side the road. She tells us how many people we could be walking on under the road we were clearly standing on. It really was interresting, something I am glad I got too experience. During our tour the lady would tell us stories about a woman named Bonnie. Soliders of soliders were friends, they would hold someone down, trying to protect them. They want to get many as people alive as they can. Bonnie was held down for about three hours.Very scared woman, when the soliders finally let go all you would see was Bonnie struggling to get up. Even though some of the things I have learned in Gettysburg may not be true, I thank my great grandpap for this trip. He was a WW2 Vet. He fought in this war luckly he did not pass. He's 91 years old and still going strong!

In conclusion, I experienced a light bulb moment when I went to Gettysbrug with my family. Looking at the historical facts, I realized a few things. The few things I learned were the amount of deaths, where different things were located and lastly, the number of unins and confederetes wounded. These were three light bulb experiences I had while I was on my Gettysburg trip.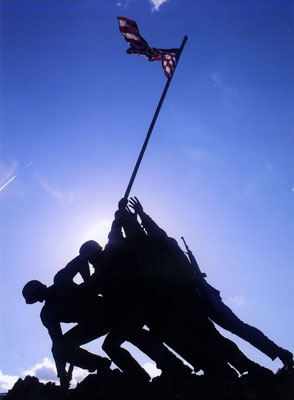 © James M., Glendale, AZ