Crossing Boarders: Discrimination Everywhere
June 12, 2012
Imagine, a little Latino kid, just about 7 years of age, walking around town, joyfully looking for a store to buy a pack of his favorite chewing gum. All of a sudden when he reaches for the door to the shop he encounters a sign that says," No Dogs or Mexicans allowed." Wouldn't you be furious, your just an innocent kid wanting to get something as harmless as a piece of paper when you simply cant due to the fact that people are racist! In Latino/a cultures, innocent people are treated with racism and judgmental terms like animals or non humans.
In Latin Studies, Latinos/as hardly fit in because the way they look and or talk. Pebble Creek states," I Couldn't speak English, so the school counselor put me in a class for students who scored low test scores on intelligence tests…" Creek says just because he couldn't speak English, they put him in a class for low students and dropouts. They should have had teachers help him to learn English, or better yet make an extra class for him that have both students and teachers help him out. You never know if he can be as smart as any other kid out there and probably can achieve a high future, he just needs to understand the things in a different way or language. He might not fit in school because of that class but if he learned English he would fit in right away.
Another reason why Latinos/as hardly fit in is because they get in trouble for speaking their native tongue, Spanish, so they have to speak public language, which s English. John states," If I hear you speak Spanish, you're in trouble." John is basically saying that the teacher is taking their heritage away from them. What if they where bilingual and could only say some words in Spanish. However I know some teachers might feel that they are talking about them but she should take it easy on the kids. This should apply to all cultures and schools.
Many cultures deal with racism but it is mostly the Latinos/as with immigration. Pat states," I can touch you wherever I want but don't complain too much because I've got boots that kick, handcuffs oh and a gun too." Pats point is that this is coming from a non-Latino/a that is treating the immigrant like a slave or like property. The government and patrol should put themselves in the immigrants position. See how innocent lives are born into a county that has many issues and problems that they want to get away from and have better lives. The only way is to buy visas and they cost a whole lot of money. Put yourself in there position…
I was in a soccer team once. Most of us were Latinos . we just wanted to play games and enjoy the spot itself.so we came across a team of all Caucasians and they started calling us racial teams like "wetbacks" without us saying anything to them. What did we do to be called with insults. So we just ignored them and played our games. I find it discussing how many people harm one another with violence and racial word because the way they speak or look.
Racism makes hard to fit in. in Latin studies, Latinos/as hardly fit in because of their appearances and or culture. If you cross any boarder whether it is imaginary, personal, or within states, you will be judged and discriminated everywhere and its up to people to take a stand and know how hard life is and how one action affects more than one person, it can affect millions.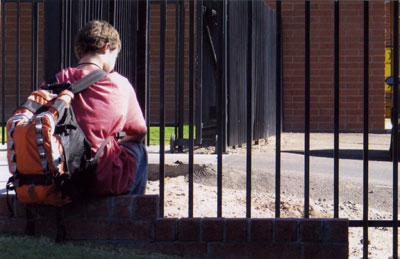 © Molly L., Phoenix, AZ